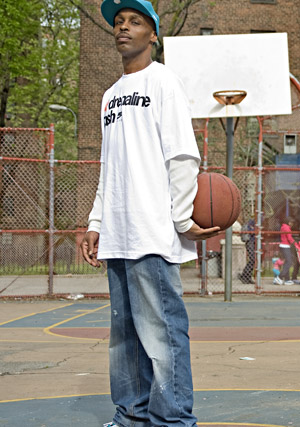 "Booger, man.
Booger the thing.
Won't believe the handle on the dude.
Booger make your butt look foolish.
Yo, man, Booger be real."
Streetball. You just have to love that kind of basketball. It shows the real game of how playing basketball. There is one player that really inspires me. He's gone down a tough road in life. He has dealt with drugs, basketball, kids, and so much more. But guess what, this guy is just truly a legend.
And here is a story about a man, who dominated the streets, because he was the king of them.
Ed Smith was just an amazing basketball player. With his bantam size of 5'10" and 180 pounds, his game is mountainous. Passing the rock is what Booger was born with. Nobody could pass better than this amateur. Like StreetBallin.net said, his game is damn near unrippable.
It just doesn't matter if you have never seen him play or you did, this kid will make your jaws drop lower than an asteroid falling towards Earth. Every play is a highlight from him. It doesn't even take that much energy for him to be deluxe. Take a look at this kid and what he can do:
In one game during the '03 Rucker playoffs, the point guard caught a long rebound and flew up court, directing two team- mates where to run along both sides of him until they both had angles to receive a pass. Two steps past the foul line, Booger faked a pass to the open teammate on his right, jumped in the air, faked another pass to the open runner on his left, and before landing, dumped the rock back to his trailing center, whom everybody had forgotten about. Slam dunk – and just another assist for Booger.
He creates a spark on the court. This guy was just too good for the NBA. It's just a shame that he couldn't get there. It would have been one easy step to the Hall of Fame if he were to ever join. But you think I am exaggerating. But with skills like that, it's impossible for all of that to be one percent of being blown out of proportion.
"I think that when I said that if I didn't make the NBA I'd be a drug dealer, people got scared of that," says the now 33-year-old Booger. "But it was a real story. I mean, that's what I was going to do. Did they want me to lie and say I was going to be an architect or something? I don't regret saying it. She just told me to be myself, but I never really liked getting too much attention.
"The movie [Soul in the Hole] was cool though. They didn't know that I was hustling from the time that I was 9. I never disrespected basketball. But on the other side, I had to do what I had to."
Booger had a tough life. Never ever met his father, and had conflicts with his mother. He was pretty much an orphan who had to take care of himself through his whole life. School never took place in his activity, and sleeping in the park or on benches was an addiction.
Although grades in school was a struggle, SLAMOnline.com said that the teachers would change the grades so Booger can play on the basketball team. That's just how skilled he was at the game. During high school, Smith dropped out and tried to make a destiny in basketball.
"Booger is one of the nicest kids in the world, but he really always had to take care of himself. When he came to live with me, he was, like, 16 years old," Kenny Jones told SLAM, who was Booger's unofficial guardian for a large chunk of his early life. "When we did the movie, I thought it was something that would help get him exposure. I think in a lot of ways, he was afraid of success."
But success was all he could accomplish. Says SLAM:
"As Soul in the Hole opens, Booger's high school years are over and the summer basketball circuit begins. He's lacking a basic plan for the future, having lived in a system that has basically policed him rather than nurture him, for his entire life. He deals with violence and poverty as if it were a part of the lives of everyone his age. Despite his hardships, Booger was one of the top players in the city, possibly even the country, by many accounts. Even with basketball skills that were more of a gift than a talent, Booger couldn't see past life in his neighborhood."
Booger started selling crack earlier than age twelve. He would serve it to friends on the basketball court. As I mentioned before, he had to take care of himself for his whole life. Booger said he never hustled for anybody. He was a hustler for himself.
Booger attended Arizona Western, trying to have a basketball career. Booger said he was not going to smoke weed or drink. But Booger just couldn't take the streets "religion" from him. Involvements with Bloods and Crips have gone through his life. In his dorm room at Arizona Western, his teammate had weed under his bed, in which SLAM recorded to be a pound of it. Smith said everybody on his team was from the streets!
Booger just couldn't come back to Arizona Western now. After all the people telling him he should go, he didn't say anything. He wasn't going to return. In 1996, Booger decided to return to AW. The staff said he should go him. Smith couldn't compete and wasn't in shape. He blew it.
In 1997, Booger was going back up to fame. An SI writer decided to check out the playgrounds in Brooklyn. He saw Booger and took some snapshots of him. The SI writer wasn't good at taking the shots because Smith was just too fast. He was very impressed in what he can do.
"I tried finding him for a while before I found him at a game at Tillary Park. He was quiet and kind of completely unobtrusive. Once he got the ball, he took over and it was a total transformation," he said. "It was as though he was attached to the ball. Things you knew he hadn't thought of or could never have planned, he would do instantaneously."
The Sports Illustrated issue was released with Booger showing his trademark pass:
Soul in the Hole was also released in 1997 as well: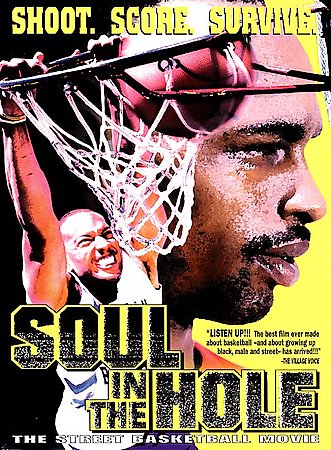 In 2001, SLAM Online said he jumped bail from a drug charge and flew to Chicago to hide from authorities. There, Smith played a pickup game with Michael Jordan. MJ was paying very close attention with Smith's passes. MJ was very impressed with his skills, and so were the scouts watching the game.
The scouts offered him a tryout to play in the NBA. Booger had the cash to tryout but the coaches said he couldn't participate. Why? It was reported that Smith was in a car crash and the police found a weapon in his car, a gun. Smith was charged, and his NBA dreams were over. That was his last chance.
Smith went to jail in 2004 and got out a day after 9/11 in the year of 2008. Booger had no problems in prison, playing sports was still in his mind. He played baseball, as he was a shortstop and outfielder. Booger still played basketball and still had game.
Smith is now living the good life. He coaches youth basketball earning some decent money. Though, he is tested for drugs weekly. Smith also has a 14-year-old daughter. They have bonded together abundantly. They have a good, positive relationship with each other.
Booger Smith is just amazing in so many ways.
Though the NBA dreams have come to an end.
Nobody will ever forgot the tale of Ed "Booger" Smith.
The streetball legend.
"Boogs can see like 12 plays ahead. I've been around a long time, and he's by far the best point guard I've played with. You don't understand how fast he is. There's no doubt in my mind that he can play in the NBA."
—Anthony Heyward, AKA "Half-Man, Half-Amazing"
Tags: Anthony Heyward Arizona Western Charlotte Bobcats Chicago Bulls College Basketball Ed "Booger" Smith Kenny Jones Michael Jordan NBA NCAA Washington Wizards