"Going to Minnesota would have just complicated my life a lot. It was a risk and I didn't see it so clearly. My priority was the NBA and it was impossible for the Minnesota Timberwolves to pay my buyout clause, so I wanted to stay home."
It looked like the Minnesota Timberwolves wasted a player when they took Ricky Rubio as their team's first pick in the NBA Draft just a couple of months ago. I knew this was a bad choice from the start. Rubio made his decision of going back to Spain and play with his DKV Joventut team.
It quite pisses many people off. But seriously, what does Ricky Rubio think he is doing? I absolutely hate what he has done. Sure, the 'Wolves may not be a good team, but look where Blake Griffin and Hasheem Thabeet landed and they aren't making such a big fuss about it.
Now you got Jonny Flynn kind of disappointed in you, Rick. It just isn't right. But, hey, T-Wolves: I really don't think there is much to worry about. Like I said at Memphis Blue Bears, Ricky Rubio is a mediocre player. You guys really don't need him at all.
So Wolves, you don't have Ricky, but guess what? That's not a problem.
---
The Wolves don't need Ricky for this year. He won't make that big of a difference. First of all, his jumpshot is just looks inaccurate. He is not a good shooter whatsoever. His shooting percentage is very low. Efficency, not so good. There are a lot of problems surrounding this kid.

It's surprising the Wolves managed to pick up Jonny Flynn. And speaking of Flynn, I think he probably might be the starting point guard instead of Ricky Rubio, if he was still there. And besides, Rubio won't be coming back to the NBA until 2011 or 2012.

Do you really think the Wolves will wait that long? I don't think so. By the time Rubio comes back, the T-Wolves have probably moved on and will use him as trade bait. I mean seriously, you really want a guy like this: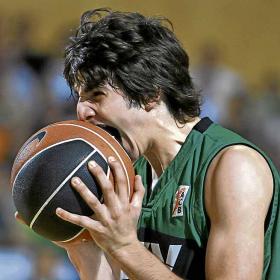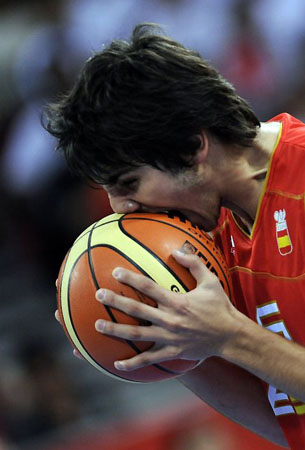 Eating basketballs more than once is one thing, but being gay and doing bullshit is another: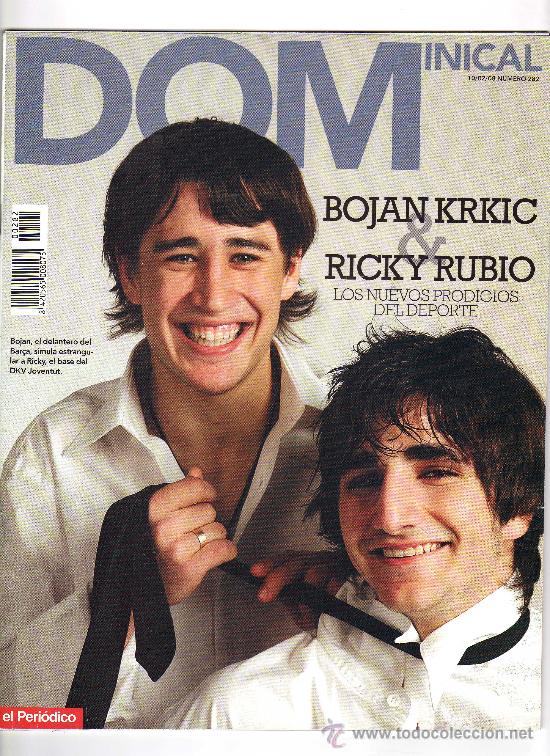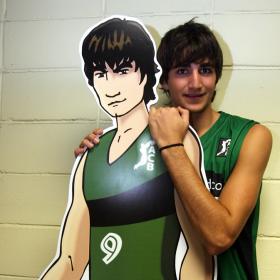 I stand my case.
---
So with that covered, let's get to the Wolves, no Rubio. I think I have bashed him enough, don't you think? The Wolves are going to be pretty good, probably winning about 30-40 games. That Ramon Sessions signing has made a big differnence.
Just look at the damn depth chart:
PG: Ramon Sessions/Jonny Flynn/Chucky Atkins
SG: Damien Wilkins/Wayne Ellington/Bobby Brown
SF: Ryan Gomes/Corey Brewer
PF: Kevin Love/Darius Songalia
C: Al Jefferson/Ryan Hollins/Mark Blount
I think the depth chart looks pretty good, don't you think? Seriously, this looks like a great lineup. Ramon Sessions will most porbably win the job at PG, while Jonny Flynn will be getting some extra minutes as well. It's going to be a great one-two punch there at that lineup, including Chucky Atkins bringing some love to the team as well.
Damien Wilkins will lead the T-Wolves at the shooting guard spot while rookie Wayne Ellington will be a big help as well. Bobby Brown will also be a helping hand. Ryan Gomes and Corey Brewer will be leading at the SF spot and will be a great support to the squad.
Kevin Love will lead the power forward spot with Darius Songalia and with Al Jefferson healthy, the Wolves can be a pretty good rebounding team. Ryan Hollins and Mark Blount will be the guys the team can count on when Jefferson is out.
See, I think the Wolves can be alright with all this. No Ricky Rubio, hell man, there is no problem. No problem at all.
Tags: Al Jefferson Blake Griffin Bobby Brown Bojan Krkic Boston Celtics Chucky Atkins College Basketball Corey Brewer Damien Wilkins Darius Songalia DKV Joventut FC Barcelona Hasheem Thabeet Jonny Flynn Kevin Love Los Angeles Clippers Mark Blount Memphis Grizzlies Milwaukee Bucks Minnesota Timberwolves NBA NBA Draft NCAA New York Knicks North Carolina Tar Heels Ramon Sessions Ricky Rubio Rudy Gay Ryan Gomes Ryan Hollins Soccer Wayne Ellington