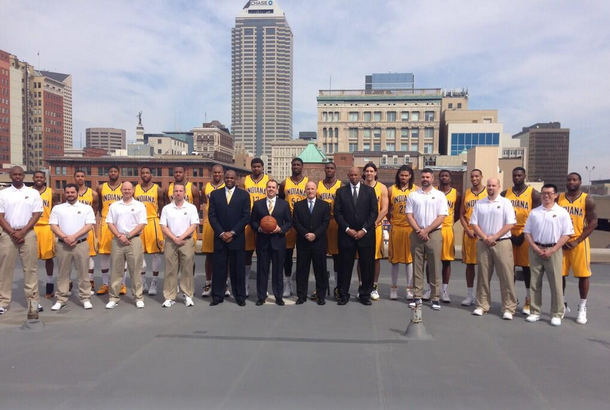 The Pacers starting lineup was recently featured in a GQ magazine photoshoot that earned the oft-undiscussed franchise some press, both good and bad.
The good was obvious: Here's a rough-and-tumble defensive juggernaut getting all fresh to def in a major mainstream magazine. The bad was found deeper in the chasms of the internet and it sure was a lot of boy band and "How about your crew of flunkies versus me and The Revolution?" jokes. Here's all you need to know really.
Well, recently the Pacers franchise got the whole team and staff together, and this photo turned out better. The whole lot of 'em took to the roof of Bankers Life Fieldhouse for picture day, and the group shot with downtown Naptown in the background certainly makes for a yearbook memory that nobody will soon forget.
Also: Nice try, Donald Sloan (last one on the right), but we see you up on your tiptoes trying to pretend you're taller than that bald trainer in front of you on your right.
(Photo via @PacersKrissy)
Tags: Indiana Pacers