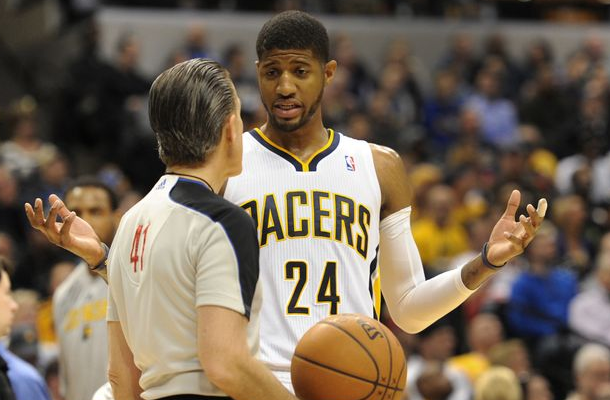 At the 5:05 mark of the first quarter of Tuesday night's win over the Celtics, Paul George intercepted an errant pass from Jerryd Bayless and was off to the races. With his size advantage and growing unstoppability in transition, it seemed like two points were inevitable.
Until the ref whistled George for pushing off on Rajon Rondo as he started to attack the hoop.
Paul George doesn't like the call. Stop me if you've heard this before. (It was a bad call.) His 2nd foul.

— Jared Wade (@8pts9secs) March 11, 2014
Yes.
It was a terrible call.
The video shows that fact quite clearly.
But NBA nights are filled with terrible calls. And good calls. And borderline calls. 'Twas always thus and always thus will be. Judging from the agonized conniptions of Paul George and his Pacer teammates perplexed by the injustices being inflicted upon them, this is an understanding that eludes their grasp.
Beyond that, the Indiana Pacers are missing something more basic when it comes to NBA officiating. You can't have it both ways.
The Pacers are a very physical team. Their defense is predicated on being able to bump, jostle, and generally manhandle their opponent. Their defensive anchor, Roy Hibbert, is snidely known by some opponents as "Mr. Verticality" for his ability to get no-calls around the rim – leaping to contest nearly every shot in his vicinity, often going chest to chest with the shooter. The Pacers' defense is their identity, and they most definitely benefit from a loosely-called game at that end of the court.
Yet, what they don't seem to grasp is that to get that loosely called game on their defensive end, they have to live with at least some level of bumping, jostling, and no calls at their offensive end.
Paul George complains — seemingly — after every shot or no call. David West is a very vocal as well. And even Frank Vogel is getting in on the act with increasing frequency and tenacity. This has to wear on officials. We know it does because the technicals are beginning to become more common place. So, at worst, the officials in any given game will get legitimately annoyed by the disrespect. At best, they probably see George and others as The Boy Who Cried Wolf.
Another sequence against the Celtics highlighted the team's infatuation with how the game is officiated.
On the defensive end, Roy Hibbert hit the deck hard while trying to get a rebound. As the Celtics secured the ball and attacked the hoop, West seemed to commit an intentional foul on Brandon Bass that was short of flagrant but not really a "basketball" play. Whether he took the foul, because of the situation (Indiana only had two team fouls, Hibbert slow getting back up the court, Boston had numbers) or because he was pissed, I can't discern. However, immediately after the whistle, West can clearly be seen pointing to the other end, and heard yelling, "You gotta call that one at the other end."
This frustration was clearly a while in the making. In first quarter, West lost his mind even more after getting whistled for a loose ball foul while he and a few Celtics were battling for a board.
Now, "You may not like him when he's angry" is a sentiment that could apply to West specifically, but it's hard to believe that someone showing this level of angst will be ready to cooly and calmly make decisions on the ensuing offensive possession. Even a whole quarter later, he was steaming at the officials enough to try to throw Brandon Bass on the floor to make a point.
Of course, the Pacers do end up getting hosed by the refs sometimes. Every player and every team does. But with the Pacers, perhaps more than any other team in the league, it's a problem of their own creation. They muck up the game on one end, so they really can't complain when their offensive zone isn't free of bumps in the night.
Even so, statistically, Indiana doesn't seem to be getting a raw deal.
The Pacers are 13th in personal fouls committed per 48 minutes, 6th in fouls drawn per 48, and 7th in differential +1.6 (drawn vs. committed). The league average is 1.0 free-throw attempt for every 3.52 field-goal attempt. The Pacers' defense has 7th-best ratio in the league, allowing 1.0 free-throw attempt for every 3.92 field-goal attempt. Offensively, they're 13th, drawing 1 free-throw attempt for every 3.46 field-goal attempt.
What do all these numbersmean? There is precious little evidence to justify the amount of carping they do.
What they really need to do is learn to play through bad calls.
Complaining to the refs is one thing. Even the histrionics, while somewhat hard to watch, aren't the worst of problems. Sure, it may upset some thin-skinned refs, but plenty of superstars, for lack of a better term, campaign for calls. Michael Jordan used to borderline brow-beat star-struck officials. Today, LeBron James can act like a child, Tim Duncan's eyes often turn to dinner plates at the mere suggestion of a whistle, and Kobe Bryant will stare down zebras as if he plans to hunt their kind into extinction as soon as the game ends.
As mentioned, it's possible that Paul George does get fewer calls than he should due to the whining, and that may have some small negative affect on the team's overall offensive output.
But this isn't just campaigning. It is clear that bad calls are increasingly getting in the Pacers' heads — with George as only the most visible example. Lance Stephenson's entire demeanor can change in an instant. West, for all his veteran savvy. loses it at times. Hibbert can be put into a funk for an entire rotation if he feels something didn't go his way.
Perhaps there is a navel-gazing effect here. Everybody in the league bitches.
Some of it is justified campaigning. Some of it is gamesmanship. But some of it is just plain whining. And the problem is that the whining diminishes the potential influence a player can have using the other two means. Surely, there is a time and place for working the officials; it's just that the Pacers currently seem to have no idea when that is or isn't.
Maybe the Pacers aren't knocked off course by whining any more than the average team is, but it sure does feel like they spend too much time on the third leg of that triangle. Moreover, they aren't trying to be an average team. They are trying to be a title-winning team. And there is no doubt that such a goal will only be tougher if the team continues to let bad calls — real or perceived — linger through several possessions.
Of more concern is that this behavior runs contrary to what they claim — and have generally demonstrated — to be their identity.
When Paul George continually chirps after perceived slights, he is turning away from the "That Next Play" mind set that allowed him to have incredible growth over the last two seasons. When David West gets caught up in calls made or not made, he is ignoring his oft-repeated mantra that the path to success can be followed by focusing on what the Pacers can control and improving what they do. When Frank Vogel gets just as wrapped up in the last call as his players — or becomes too comfortable with the idea that "other teams are just hitting shots" — then he drifts further away from the accountability necessary to compete at the highest levels and dangerously close to excuse making.
They're all bigger than that. Or, at least they need to be, if they want to reach the goals they've laid out for themselves.