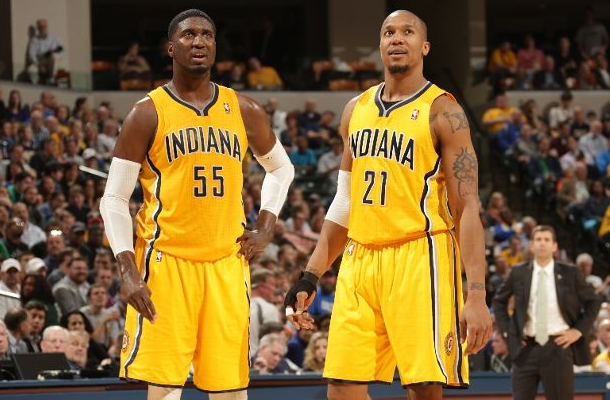 The Indiana Pacers have been playing highly mediocre basketball for the past 20 games. They pulled out of a tailspin on Tuesday by beating the Celtics, but one victory over a bottom dweller isn't enough to make it seem like everything is OK in Pacers nation.
Now, with the season looking the cloudiest it has, the team is trying to integrate two new players (Evan Turner and Andrew Bynum) while also hoping Paul George and Roy Hibbert can pull themselves out of extended slumps.
Not surprisingly, the opinions in our writer panel are all over the map. Here are their thoughts on a few critical questions for the Pacers going forward.
In two sentences, what is the State of the Pacers right now?
David Searle: The regular season is high school, and the Indiana Pacers have senioritis. They are tired of being the BMOC in a small town, and they yearn for the challenges and keggers at Post Season University.
Tim Donahue: Somewhere between a little and a lot lost. Just a couple months ago, everything was simple — they knew who they were, and they knew what they did — but now, changes from within and outside have left them unsure and out of sync.
Mark Evans: They've had better moments, but at the end of the day, a slump doesn't change the fact that it's coming down to Indiana and Miami in the Eastern Conference Finals. That's all the matters, right?
Jalen Bishop: In the midst of a mid-season panic, I think the Pacers are pretty stable at this point. They are on pace to win 60 games.
What are your thoughts on Evan Turner so far?
Searle: He dropped a big stink bomb against the Warriors, but he was a valuable part of two victories over the Celtics. Turner seems to be comfortable creating his own offense, a trait the second unit desperately needs. His ability to space the floor for Bynum is unproven, but he is 5-for-9 from deep in a Pacer uniform so far. Overall, chipping in 9 points in 22 minutes with an eFG% of .507 is just fine with me. The defense is worrisome, but a month with Vogel and Indiana's Tenacious D should help.
Donahue: I think I can't see a clear role for him on a good team. Offensively, he doesn't shoot well enough, doesn't handle the ball or pass well enough, and doesn't seem to make decisions well enough. Defensively, he is utterly lost. Feels like Tyler Hansbrough, to me: enough there to always land a job but not enough to ever make him an important part of a good team.
Evans: Helpful. His very impressive 3-point shooting likely won't keep up, but I think we're seeing the value in having another capable ball handler. It hasn't taken long for Turner to flash most of his skill set. He still has to get better before the postseason, but he's already an upgrade over Danny Granger.
Bishop: Gloomy. I'm trying to give it more time to hold judgement, but his foot speed is slow on defense and he's a below-average shooter. If those things don't improve in a month, which they likely won't, Rasual Butler is better suited to fill reserve wing minutes in the playoffs.
How should Frank Vogel handle the minutes distribution between Ian Mahinmi and Andrew Bynum over the next 10 games?
Searle: If Bynum is healthy, he gets the minutes. All of them. Mahinmi has defended the rim at near-Hibbert levels, a fact that is woefully underappreciated by Pacer fans. But Ian is a disaster offensively. Bynum is a small step backward defensively — and a ridiculously huge leap forward on offense. Bynum should be soaking up every last Hibbert-free minute, health permitting.
Donahue: Very delicately. Coach Vogel is not someone known for flexible rotations, and I find it extremely unlikely that he'll play three centers. Under the assumption he'll play one or the other, then I believe Vogel will view the job as Mahinmi's until he loses it. However, I think there will be pressure from Larry Bird and others to give the minutes to Bynum. The fact that Mahinmi is far more likely to be a good soldier than Bynum might be is probably going to play a much larger role in the decision than anyone will be willing to admit.
Evans: It's an awkward position. Bynum deserves a "try out," but even limited minutes could lead to a set back for the fragile big man. I don't think he plays consistent minutes for a little while, but Vogel should give him a game here and there with significant minutes to see how he reacts. This might all be a wash, because after all, it's very possible that an out-of-shape, out-of-sync Bynum is still better than Mahinmi.
Bishop: Depends on the matchup. Bynum had a great debut, but the Boston Celtics are undersized at center and couldn't match his length. If Indiana is playing against a team that loves to use the pick-and-roll with speedy guards, minutes should go Mahinmi.
What's the deal with Paul George?
Searle: His shot isn't falling. His FG% has dropped every month this season — from 47% in December to 39% in March. PG is shooting 34% from deep in the last 20 games, after hovering around 40% in the beginning of the season. His catch-and-shoot opportunities are going to waste; only 32% of his buckets in March have been aided by a teammate's assist, down from a season-high 59% in December. He is trying to force his way to the line to compensate but it isn't moving the needle much. Is he bored? Tired? Injured? Experiencing growing pains? Preoccupied with off-court stuff? Can't speak to that. George is a jump shooter in a slump who hasn't developed an offensive Plan B yet.
Donahue: I think we lose sight of just how far Paul George has come in a period of 14 or 15 months. Now, he's at the next big obstacle in his development: figuring out how be the star without trying to do it all by himself. I believe Paul can and will work through it, but I also think he needs to get some help and direction. That's why I think George's acknowledgment that he'd like to learn from LeBron James is a pretty enlightened point of view.
Evans: It's possible that teams are adjusting to the superstar version of PG, and he's yet to get past that hump. Whatever the reason, it needs to be fixed — because the Pacers won't get by the Heat with George playing like this.
Bishop: His mid-range shooting has dropped off, which led to his shooting percentages taking a hit over the past two months. Since February 14, he's taken more mid-range shots than shots in the restricted area. That probably isn't good for long-term success.
As of today, how optimistic are you about Indiana's chances to win the title?
Searle: Very. I think that this year's title race is a plurality — no team has a greater than 50% chance at a ring. Miami, OKC, and Indiana split the best odds, with San Antonio and the Clippers being a tier underneath. I could see the Rockets and Warriors being the last team standing with the wind at their backs. With seven teams in the mix, I am excited to see Indiana in that top tier. Recent play isn't setting off any alarms in my book — for now.
Donahue: I've never considered the Pacers winning a title to be a realistic possibility. It's far from a certainty, but I think Indiana can beat Miami. However, I really don't think the Pacers could beat either Oklahoma City or San Antonio in a seven-game series. The last few weeks probably have made me less optimistic about getting out of the East, but it hasn't really changed my thoughts on the Finals.
Evans: I am very optimistic about their chances to make the Finals. Does that count? It's tough to be crazy about their chances at the moment when you look out West. The Thunder will get it together, the Rockets and Clippers are scary, and oh, the Spurs still exist. I like their chances against the Heat, but I don't love their chances against whoever comes out of the West.
Bishop: "Anything is possibleeeeeeeeee!"(Kevin Garnett voice.) There's always a chance. Continuity in the starting lineup helps. Having the number-one defense in the league helps. There's two problems: LeBron James and company are standing in the way, and the West has beasts in every playoff seed.
Tags: Indiana Pacers