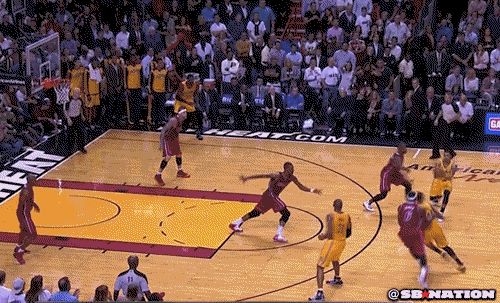 Look. This isn't why the Pacers lost.
The fact that Roy Hibbert (who Frank Vogel rolled the dice with when he picked up his fourth foul) got whistled for a fifth foul early in the third quarter and sat out most of the half was huge. The fact that the Pacers ran some terrible offense down the stretch was enormous. The fact that a (terrible) Lance Stephenson fadeaway late led to a Heat run out was giant. The fact that Paul George missed a floater that got Ray Allen a wide-open three in transition was the dagger. The fact that a George Hill turned the ball over while miscommunicating with George on a drive and kick nearly put a nail in Indiana's coffin.
But the Pacers, despite all their late-game futility, did have a chance to tie it with one final shot. And Hill found George for a decent look from behind the arc. George wasn't quite able to catch and get himself set ideally, but he rose for the shot and LeBron clearly makes contact with his body as he elevates.
No whistle sounds and George missed the shot.
Game over.
After the loss, George expressed his dissatisfaction with the call.
Paul George on final play: "I felt that I was pushed in the back…"

— Candace Buckner (@CandaceDBuckner) December 19, 2013
Though we didn't really have to wait that long. He more strenuously objected to the referees' decision on the court right after the play. I'm not a professional lip reader, but I'm pretty sure he's saying, "That's fucking BULLSHIT, Joey" [Crawford, a ref] . #DarylDixonVoiceHopefully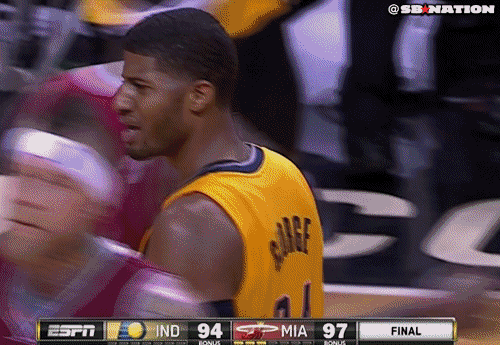 Here's a still of LeBron's hand caressing George's waist.
LeBron wasn't fouling Paul George…he was seducing him. (pic via @ThomasBeisner) pic.twitter.com/Xk2tWsuncn — NOTSportsCenter (@NOTSportsCenter) December 19, 2013
And here are a few images some clever folk came up with on Twitter.
C'mon man he straight up got Simba'd smh… pic.twitter.com/t6uwZtU2QN

— Austin Moore (@friendricklamar) December 19, 2013
Team "Lebron and Paul" 2016 Winter Olympics pic.twitter.com/U19MI8QQER

— Pacer Nation! (@INPacerNation) December 19, 2013
UPDATE: Former NBA official Ronnie Nunn joined Coach Nick on BBallBreakdown, and believes that Paul George should have gotten three free throws.
Tags: Non-Calls