When the Pacers' front office traded for Luis Scola was traded to Indiana, they envisioned him as a spark plug for a bench that struggled to score. Fans probably expected Scola to find his niche spotting up from midrange and in pick-and-pops with Paul George or George Hill mainly. Bit Scola has established a connection from these areas with neither of those players as much as Lance Stephenson.
Stephenson and Scola are polar opposites; one is a turbocharged, playmaking wing with an evolving jump shot, the other uses precision to handicap defenses willingness to surrender open midrange shots. Both on an off the court, they seem like an odd couple.
The two have worked together wonderfully, however.
For the month of December, in 85 minutes of play, the Pacers score 104.5 points per 100 possessions when Scola and Stephenson share the floor, according to NBA.com. That's 2 points per 100 higher than the team's overall output. Luis is the beneficiary when he's paired with Lance; Scola's offensive rating is 101.4 with Stephenson, just 92.3 without him. Additionally, per NBA.com, Scola's effective field-goal and true shooting percentages are 55.8% and 58.2%, respectively, when matched with Stephenson. Without the Brooklyn native, those accuracy numbers drop to 48.1% and 50.4%.
Moreover, 25 of Scola's 92 field goal makes have been assisted by Stephenson, per NBA.com. A common scenario starts when two defenders corral off a Stephenson bull-rush rim attack. He will then pinpoint Scola behind him with an accurate pass that leads to an open shot in the midrange, where the Argentine is shooting 52% on 89 shot attempts this year. For perspective, that is the same number of makes as Chris Bosh — on 19 less attempts. That's money.
Another similar case is a simple: The Stephenson/Scola pick-and-roll in which Stephenson beats his man and Scola's defender drops down to fence in Lance's drive. Stephenson is keen on locating Scola.
In this play against the Jazz in Utah, Lance got around Alec Burks only to be walled off by 6′ 10″ Derrick Favors. An additional Jazz defender is waiting at the rim.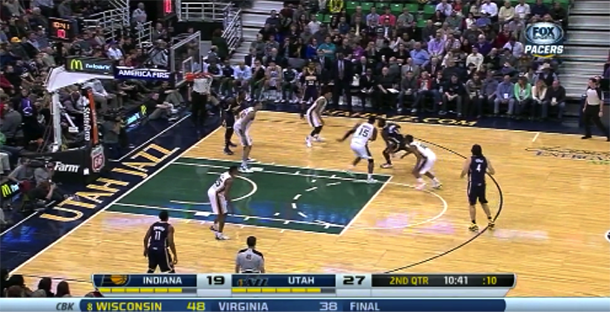 Stephenson recognizes the rotation, gets a little deeper in the lane, then throws it back to Scola.
What's Luis Scola shooting from 16-24 feet this season? 42 of 76 shot attempts. That's cash.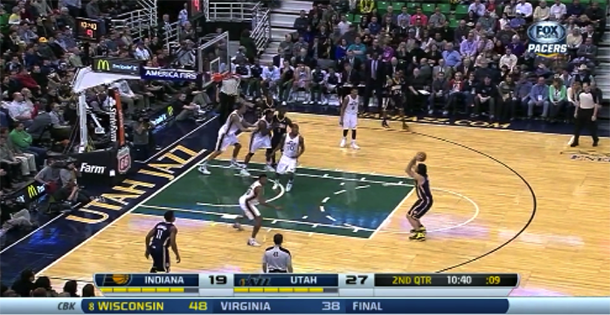 In the eight minutes Scola and Stephenson shared the court together against Miami last week, they outscored Miami by 32.7 points per 100 possessions — a monstrous mark. That figure likely is unsustainable over the course of the Pacers' three remaining contests this season with the Heat, of course, but keep an eye on these two when they share the floor tonight in the rematch in Miami.
Feel free to disagree and let your thoughts be known to me on twitter. @Jalen_NY
Stats provided by NBA.com.
Tags: Dynamic Duo