 Over the past few NBA seasons, advanced metrics and shot charts have become bigger part of the way we analyze players or teams. Anybody who is aware of these metrics is also very much aware that the midrange shot has become one of the hardest shots to make in the NBA, with some even calling it a "lost art."
For reference, according to Hoop Data, last season the NBA as a whole shot 39.9% from between 3 to 9 feet, 41.9% from between 10 to 15 feet, and 38.4% from between 16 to 23 feet. This is why general wisdom now agrees that the best shots to take are either at the rim or behind the three-point line.
Another thing that should be evident to those who watched the Pacers last season is that there were two main things preventing Paul George from becoming an all-around offensive player. Those two things were his ball handling and inability to create his own shot in the midrange. Last season his shooting percentages from between 3-9 feet (26.5%,), 10-15 feet (34.5%), and 16-23 feet ( 37.0%) were all below league average, according to HoopData.
Paul went into the offseason admitting that ball handling and midrange shooting were the areas of his game that needed to be worked on most. That reason is why I expected those areas to be improved this year. Paul Flannery of SB Nation reported that George would get up 500 shots a day all at game speed, with his trainer Mike Penberthy watching to make sure every single shot had the same stroke.
Even with all the offseason work, I doubt many people thought his accuracy would improve so quickly. But he has come out of the gates this season making nearly everything in the midrange.
Here are two shot charts that show the growth: Paul George's percentages last season, and his numbers so far this season.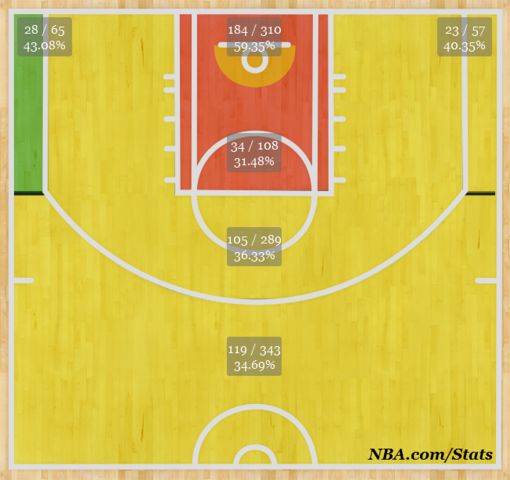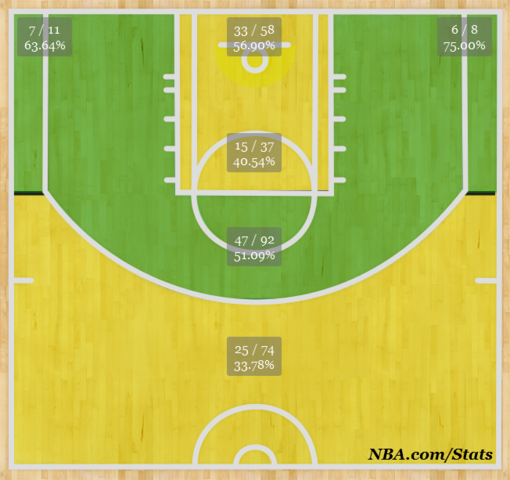 51.1% so far this season!
Just to put that a little bit into perspective: two of the best midrange shooters in the league last, Jose Calderon and Luke Ridnour, shot 48% and 49%, respectively, in between the paint and the three-point arc. Kobe Bryant, who many consider one of the better midrange weapons ever, has never shot above 45% in a season.
Granted, George is only 16 games into a long season, but still!
Going from a slightly below-average midrange shooter to one of the best in the league, even for only 16 games, is the stuff of legends. And the way George has been hitting has been just as pretty as the numbers. He has been hitting Kobe fadeaways, Durant stepbacks and Melo pull ups with ease from the mid range.
All this is just one more reason why the number 10 pick from the 2011 draft may go down as one of the all-time draft steals.
Tags: Stat Talk