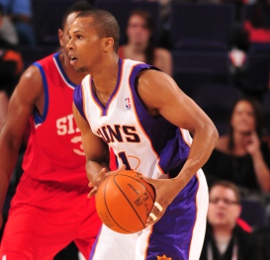 Jonny Flynn will be returning next week, which means that the Minnesota Timberwolves look to move one point guard so they can have a limit at four. Luke Ridinour will stay, but whoever will be on the move will either be Sebastian Telfair or Sundiata Gaines. But if Flynn plays really good, coach Kurt Rambis considers only having two point guards.
"We have to see what the best two-guard situation is for us," Rambis said.
Gaines may leave, but Telfair wants minutes and he could be gone as well. The Wolves will try to release him or trade him. A trade could work, as the Timberwolves could get a shooting guard/small forward, which is Bill Walker, from the New York Knicks.
The Knicks have been noted to be looking for a low-dollar option at point guard to help back up Raymond Felton. A trade could happen here.
Tags: Bill Walker Minnesota Timberwolves NBA New York Knicks Sebastian Telfair