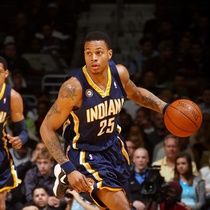 It's easy to tell how improved Brandon Rush is this season. During the tough Western Conference road-trip for the Pacers, Rush started three games in that span as Indy went 2-2. But now the rumors are coming up again of who will actually start at shooting guard for the Pacers: Mike Dunleavy or Rush?
"It's irrelevant to me who starts," O'Brien told The Indianapolis Star. "It doesn't matter to me at all because I don't think it's important.
"I don't think this is a team where I need to stroke anybody's ego. The lineups with Brandon and Michael starting are both successful for us."
Rush said he doesn't mind if he is on the bench or is a starter.
"Honestly, it really doesn't matter," Rush said. "I know I'm going to get minutes every game. So it's not an issue to me."
True that. No matter what happens, Rush will be getting a lot of minutes per game. He will get the minutes Danny Granger, Roy Hibbert, and all of those guys are having. But Dunleavy has been playing well, too. If I were to pick, I'd just start Rush. He is one of the best, or soon-to-be or already-the-best shooter on the squad. He has the best defender at shooting guard. His skills are better than Dunleavy and he is younger and more versatile.
I'd start Rush.