James Posey made a clutch three-pointer with less than a minute to play to give the Pacers an 86-85 lead. Jameer Nelson decided he didn't want the game to end like that.
Nelson got a three-point play of his own, and the Orlando Magic escaped Conseco Fieldhouse with a 90-86 win on Saturday night. The Pacers fought hard in the fourth quarter, but Roy Hibbert's foul trouble in the second half and the free throw disparity in the game were too much for Indiana to overcome.
I have been looking forward to this game since the beginning of the season because of the matchup between Roy Hibbert and Dwight Howard, the best center in the game today.
Hibbert actually outperformed Howard in the first half, out-scoring him 17 to six and pulling down three more rebounds. Hibbert got into foul trouble early in the second half though, and played less than 11 total minutes in the second half. Howard was able to score 14 of his 25 points in the fourth quarter, when Orlando needed him most.
The Pacers out-rebounded Orlando in the game, had more assists, more steals, less turnovers, more fast break points and more points in the paint, yet still fell to the Magic at home. With Hibbert out most of the second half, Howard was able to get whatever he wanted. Roy scored just two points in the second half, which really hurt the Pacers on offense.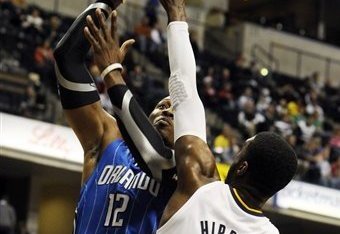 There is really just one important statistic from Saturday night's game. Dwight Howard was 11 for 19 from the free throw line. So was the entire Pacers team.
Darren Collison missed his third straight game with a left ankle sprain, and T.J. Ford started in his place. Brandon Rush scored 14 points off the bench, while Roy Hibbert led the team in scoring with 19. Danny Granger struggled somewhat from the floor, shooting just 5 of 18, finishing with 13 points.
Despite the loss, it was closer than some people thought, and the Pacers really had a good shot at winning this one. Orlando's coach Stan Van Gundy also thinks the Pacers will surprise some people.
"I think Indiana is good. We are on the road playing and it was a very tough loss for them. Both teams played well. I'd be surprised if Indiana isn't a playoff team, with Hibbert getting better and Granger. We'll see them in the postseason."
The postseason is nothing to worry about right now. Up next, the Pacers are headed down to Miami for a game against the Heat on Monday night. It is unclear if the Heat will have Wade for that game, after missing their last game with a sprained wrist.
Tags: Brandon Rush Dwight Howard Indiana Pacers Marcin Gortat NBA Orlando Magic Roy Hibbert