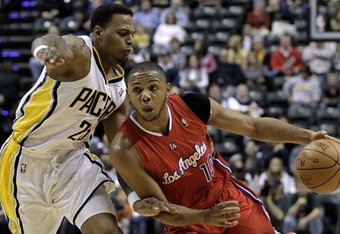 Eric Gordon came back to Indiana on Thursday night, only to watch his Los Angeles Clippers get throttled by the Indiana Pacers.
The Pacers won their second game on their current three-game home stand, as they defeated L.A. 107-50. This game is exactly what they needed after suffering a tough loss on Tuesday at the hands of the Atlanta Hawks.
Gordon did score 19 points for L.A. who fell to 1-12 on the season. The Pacers evened their record to reach the .500 mark yet again this year. Danny Granger led the way once again for Indiana, with 22 points, 7 rebounds and 5 assists. However, that was not the story of this game.
The Pacers had six players score in double figures. Two of them (Price and Posey) came off the bench to provide the team with a much needed boost after the first quarter. T.J. Ford started his second consecutive game after Darren Collison missed his second straight with a left ankle sprain. Jeff Foster also returned for his season debut for Indiana.
While Granger's 22 points and Hibbert's 18 points led the way for the blue and gold, it was the bench that was the difference in this game. A.J. Price finally got some quality minutes with Collison out and he made the best of them. He finished with 14 points, and a team-high 6 assists. James Posey also saw the floor frequently tonight, chipping in with 12 points.
From a statistical standpoint, this game couldn't have gone any better for Indiana. The Pacers won virtually every category in this contest. While they held the Clippers to just 33 percent shooting, the Pacers were able to shoot 51% themselves. The Clippers recorded just two baskets from beyond the arc, the Pacers were 14 of 26 (54 percent) from downtown. Indiana was better in free throw percentage, rebounding, assists, blocks, fast break points and points in the paint.
Granger, Posey and Brandon Rush all hit four three-pointers in the game. Rush is continuing to build on his game, as he looks to be more consistent this season.
This game was a solid all-around performance by the team. Everyone stepped up and filled in their roles perfectly. They seemed to play within themselves and didn't try to do too much.
This was a much needed win for the Pacers, who face two of the best teams in the league in the next four days. Saturday night, they will finish up their three-game home stand against the Orlando Magic, who are currently embarrassing the Phoenix Suns on ESPN. After that, they will head down to Miami to face the Heat. Like I said, they really needed to win this one against the Clippers.
Tags: Danny Granger Eric Gordon Indiana Pacers Los Angeles Clippers NBA