Even though Darren Collison and Tyler Hansbrough missed the game with left ankle sprains, that is never an excuse for losing a game, especially at home.
Yes, the Hawks are a fantastic team, a squad capable of getting a top four seed in the Eastern Conference Playoffs, but if Indiana is ready to make a move in the East, they have to play better in the second half.
They trailed by just one at the half, but Atlanta jumped on them early in the second half, and quickly found themselves up by 13 points. The Pacers were never able to get it closer than five points the rest of the way.
T.J. Ford started at PG for the Pacers, and he did okay on offense with six points, five assists and no turnovers. On the other hand, he shot just three for 10 from the floor, and on defense, Mike Bibby and Jamal Crawford were able to do whatever they wanted.
Bibby finished with 16 points and seven assists, while Crawford came off the bench to add 11 points and five assists. Josh Smith led all scorers with 25, eight assists and seven blocks.
Danny Granger led the way for Indiana with 22 points and six rebounds, but Roy Hibbert was the main force, with 18 points and 15 rebounds.
The Hawks were able to limit his defensive presence in the second half, as they made an effort to force Hibbert to guard more pick and rolls in the second half, the idea being if he's allowed to stay inside he's more of a force.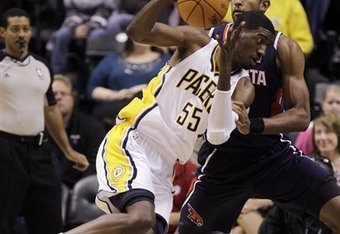 With the win, the Hawks snapped a four-game road losing streak and are 8-4.The Pacers are now 4-5.
Despite grabbing 12 more rebounds and outscoring Atlanta 38 to 20 in the paint, the Pacers didn't have the answers in the second half.
Hibbert had 14 points in the first half, but added just four in the second half. Six Hawks players scored in double figures.
Once again, Indiana didn't have the defense to stop Atlanta when it mattered most. Missing Hansbrough and Collison did hurt them, but other guys are going to have to step up when these injuries hit.
Joe Johnson had an off-night shooting the ball for Atlanta as well, so they can't expect that to happen every time they play them.
Mike Dunleavy summed it up quite simply after the game: "We came out with no energy and just didn't seem to be able to get in the groove."
Tuesday's loss to the Hawks is the first of a three-game home stand for the Pacers. Things don't get much easier from here. They will host the Clippers on Thursday night, then the Orlando Magic come to town on Saturday night.
After that, Indiana will head down to Miami on Monday for their toughest test of the season; a date with the Miami Heat.
Tags: Al Horford Atlanta Hawks Danny Granger Darren Collison Indiana Pacers Joe Johnson Josh Smith NBA Roy Hibbert