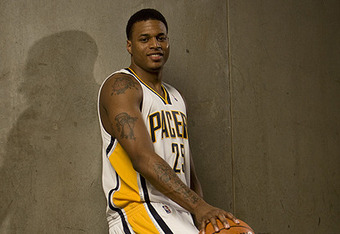 Through the first five regular season games this year, the Pacers have had the same starting lineup. That could change Tuesday night.
Brandon Rush was suspended by the league for the first five games of the regular season after he failed three drug tests last year. His return, coupled with the struggling Mike Dunleavy could prompt head coach Jim O'Brien to start Rush at SG, and move Dunleavy to the bench.
Dunleavy is only shooting 34 percent from the field this season, and just 24 percent from beyond the arc. Shooting is Mike's biggest strength, so when he isn't shooting well, he doesn't provide the team with very many positives.
He also has a slightly sprained knee, which prevented him from practicing on Saturday.
This could give the Pacers the boost they need after suffering two terrible defeats at the hands of the 76ers and Bucks. They will most likely need a more athletic two guard to defend the players that they will be facing in the next week.
Some of the shooting guards they will be facing include J.R. Smith, Kevin Martin, Joe Johnson and Eric Gordon. Obviously Brandon is a quicker and better defender than Dunleavy in these matchups.
Another positive the Pacers see with this move is the ability to have a four-man rotation for the wing players. Rush and Granger the starters, with Dunleavy and George as their backups. That should also enable the team to limit Granger's minutes by seven or eight per game, to keep him healthy.
The return of Rush could also spell the end of the line for Dahntay Jones. With every position having a first and second string guy, it looks as if Jones could be the odd man out. The Pacers have quietly been trying to shop him, and they will continue to do so. If you can't shoot the ball well in O'Brien's system, you won't be around long.
Speaking of Jones, the other one is also having major problems. Solomon Jones (some of you know how I feel about him) has been a very sub par backup center so far this season. Jeff Foster is still recovering from a sprained ankle, and Hansbrough and McRoberts are getting more minutes at the PF position.
In 58 minutes of play this year, the 6'10" backup center has a total of three rebounds this season. Seriously, why is he still here? Why are either of the Jones' here? Maybe they won't be for too much longer.