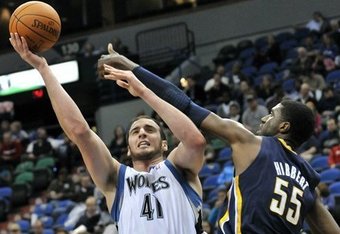 Yes, it is still the preseason, but the Pacers have won their third game in a row.
Tuesday night in Minnesota, the Pacers took the court against the Timberwolves for the second time this year, after defeating them at home last week. Once again, there were many guys that either didn't play at all, or were limited in their minutes.
The Pacers were without Danny Granger, and the T-Wolves were missing Johnny Flynn and Darko in the middle.
Roy Hibbert led the Pacers yet again, as he posted a very nice statistical line. He finished with 27 points, 16 rebounds, and six assists. He was 7-10 shooting from the free throw line. The fouls were even at 36, but the Pacers shot 15 less free throws during the game.
Paul George came off the bench yet again and was on fire from downtown. George hit five three pointers, a few of them in the final minutes of the fourth quarter. He finished with 17 points and five rebounds. Mike Dunleavy (starter) and James Posey (bench) each scored 16 points for the Pacers.
With Granger sidelined with a sprained ankle, Brandon Rush entered the starting lineup for the Pacers. He finished with 13 points and six rebounds. A.J. Price came off the bench and added 11 points and three assists.
The Pacers looked very much improved on the offensive end, as the new faces meshed together quite nicely. As a team, they hit 16 three-pointers, shooting 46 percent from downtown.
Darren Collison finished with eight points, but had a team-high nine assists for the Pacers.
After losing their first three preseason games of the year, they have now rallied to even their record at 3-3. The Pacers will head home, then make the short trip to Chicago for Friday night's final preseason game of the year. It is unknown how much playing time the starters will see, but the team does not plan to play Granger.
After the final preseason game ends on Friday night, the Pacers will prepare for their opening game of the 2010-2011 regular season. They will face the San Antonio Spurs on Wednesday, Oct. 27 at 8:30 p.m.
Tags: Indiana Pacers Kevin Love Minnesota Timberwolves NBA Roy Hibbert