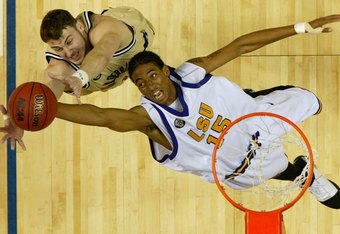 I recently wrote a piece about how Jim O'Brien has all but declared Josh McRoberts as the starting power forward for the Indiana Pacers. I'm sorry, but I have to disagree with coach.
When I look at McRoberts, I see half the player that Troy Murphy was.
With the addition of Darren Collison, added to the duo of Danny Granger and Roy Hibbert, what do we really need at the PF position? Defense.
What is Magnum Rolle all about? Defense.
Rolle was named to the All-WAC Defensive Team, mainly for his shot-blocking abilities. He is very agile and has soft hands even though he averaged 14 points and 8.4 rebounds during his senior year last year—he is all about being a defensive presence inside.
Fellow second-round pick and Indiana Pacer Lance Stephenson stole the show and was all the buzz in Orlando this summer. Rolle did just fine for himself though. During the Orlando Summer League, he averaged 13.4 points, seven rebounds, and two blocks per game.
Pacers head coach Jim O'Brien also thought Rolle had some exceptional talent on display during the summer league.
"He's been by far the best player by a large margin (in camp). He has dominated everything. He has scored. He has rebounded. He has defended well. He has a surprisingly high basketball IQ. He shoots really well and pursues every offensive rebound."
Any recruiting/draft website will list a paragraph full of strengths for Rolle, and a sentence or two about his weaknesses, which is basically just strength.
I myself don't look like The Rock or Vin Diesel, but if you offered me money and a career as an NBA player, I know I would be in the weight room until I looked like Dwight Howard. My point here, is that I think Rolle will be able to put on some weight with no problem.
While coach O'Brien is really sold on McRoberts being the starter at PF for the Pacers this season, I beg him to reconsider.
I know he is there every day and he knows who is better and which guy is the better fit, but from what we can tell as fans, I think most everyone would like to see Rolle as the guy.
If McRoberts outperforms Rolle then fine, he earned it. But I will have to see how they both perform when the season starts next week.
Obviously the PG, SF and C spots are crystal clear with Collison, Granger, and Hibbert. It will be interesting to see who coach puts in the lineup with them at PF and SG.
I would like to see Rolle get the nod on opening night.
Tags: Indiana Pacers Mike Dunleavy NBA