BY CHAD SMITH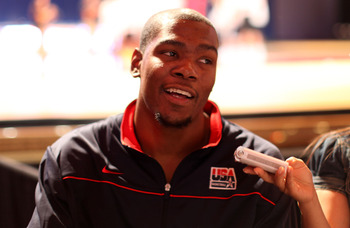 Team USA managed to get through their last FIBA Championship warm-up game today, as they turned it on in the second half to beat Tunisia 92-57.
The Americans finished with a clean 5-0 record in Group B play, surviving a scare from Brazil earlier in the week.
Today's game was another fairly balanced attack, as 11 players scored for Team USA, which were lead by Eric Gordon's 21 points.
Kevin Durant and Russell Westbrook each finished with 14 in the win. Stephen Curry also came off the bench to contribute 13 to the cause.
Even though the final score showed the game as being one-sided, like a few other games this year, USA has had a rough start in the first half.
With less than two minutes left in the first half, the Americans were only up three points. They were able to flip the switch in the second half (again) thanks to the bench.
Team USA's next game will be Monday against Angola (2-3), the No. 4 seed from Group A. This is where things get serious.
If The Americans wish to take home the Gold this month, there are some things that they really need to work hard at, and improve before it ends their run prematurely.
Stop the Turnovers
Turnovers have really been a problem with this team, especially early in games.
Besides Chauncey Billups and Lamar Odom, this team is comprised mainly of very young players, who can sometimes become too sloppy.
The chemistry is still lacking in my opinion, and their offense really isn't flowing. The transition game is going great, and that is what they want to see.
The young guys can flourish in that type of game, but if teams can get them settled into a half-court game, they could face some problems if Durant isn't hitting.
The Defense Still Needs Work
It's no secret this team isn't made up of elite defensive talent.
Sure all these guys are athletic, but athleticism alone won't get you great defense.
The USA squad is lucky other teams are shooting so poorly, because if they aren't forcing turnovers, the pick-and-roll game is killing them.
The help defense really needs some tweaking, and guys need to start keeping their guy in front of them, instead of just trying to block every shot.
We don't have great shot blockers in the lane, and the end result is usually fouling, sometimes giving the opposition a chance at a three-point play.
Leadership Still Not There
Sure Durantula is supposed to be the leader of this team. No doubt Billups and Odom are here to provide their experience to these young guys.
They need to prepare them for how the game is going to be played and refereed. I can't say how things go in the locker room, but on the floor it doesn't seem like there is much chatter.
They need to be sure they are communicating on the floor, and learning to play together.
Someone on this team needs to stand up and start holding everyone accountable for their play.
Where is the Consistency?
The first game was all about the reserves. The starters weren't playing up to their potential and the bench came to the rescue.
The second game was the exact opposite. They were getting nothing from the bench, but the starters were able to keep it going.
The third game was more of a collective effort, but the fourth game was not.
Their fifth and final game today was better, but besides Durant, the starters really didn't contribute that much.
The bench saw more minutes this game so that helped, but there is still a problem. What if the starters don't show up for a game, but the guys in the bench aren't ready to step up?
Outside of KD, no other players have been consistent at all, having 14 points one game, then maybe two the next.
I'm looking at you, Eric Gordon.
What Is the Starting Five?
Coach K has admitted he isn't sure of what starting five he will have set for Monday's game.
Billups is playing out of position at the shooting guard spot, and if Eric Gordon can keep shooting the ball consistently, he might have a spot there.
Andre Iguodala hasn't really showed up the last three games after getting off to a great start in the first two.
Westbrook and Kevin Love have been great sparks coming off the bench, but Coach K said he might slide one of those guys into the lineup to shake things up.
Another option he has mentioned was moving Billups to the PG spot and putting Gordon or Rudy Gay at the two, and having Rose come off the bench.
Hopefully they can settle on a solid starting lineup before Monday's game. That's when the real tournament begins for Team USA.
Tags: FIBA FIBA Basketball FIBA World Championships FIBA Worlds NBA Team USA USA USA Basketball