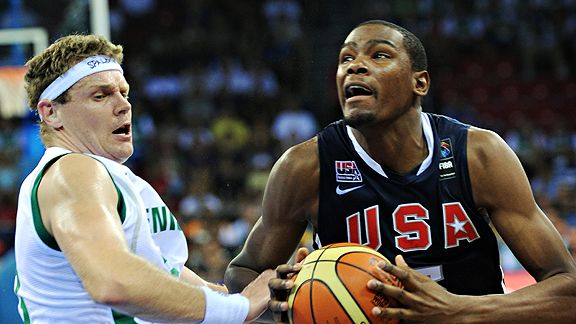 ISTANBUL—Kevin Durant came up big today, helping lead Team USA to a 99-77 victory over Slovenia. Durant, who was the NBA league-leading scorer, is leading the FIBA World Championships in points and is really rocking. He is on fire and is just simply unstoppable. Like his NBA team's name, he is bringing thunder and havoc to other opponents.
Many believe that the Durantula will have the highest-total scoring-average in Team USA FIBA World Championships' history. There is no doubt in my mind that it can happen as the small forward went along for 22 points in just 23 minutes, raising USA's record to 2-0.
However, Slovenia was able to catch up, being trailed 28-23 in the second quarter, and then 42-30 at the end of the half. However, USA then cruised towards a 19-5 run to raise the deficit up towards 61-35. The best Slovenia could do after that was to trail 63-46, then running out. From there, it was all over.
Durant had 14 points in the last game, in just 18 minutes. With today's points-total, he is now averaging 18 points per game currently. Rudy Gay added 16 points, while Andre Iguodala and Russell Westbrook each added eleven. Eric Gordon, who had a tremendous shooting game last night against Croatia, had a horrendous shooting night today as he only had six points while going two-of-nine overall with and starting out with zero-of-seven. Kevin Love would finish with ten points and eleven rebounds. Lamar Odom would tally up five points with nine rebounds. Derrick Rose would have seven points and five assists.
Slovenia falls to 1-1. Bostjan Nachbar added 13 points for them. Goran Dragic would have seven points with five assists while Gasper Vidmar would have ten points. Samo Udrih would have nine points.
With a hopeful win against Brazil next Monday, USA can wrap-up Group B. With that, they will also face Iran and and Tunisia.
Tags: Brazil Brazil Basketball FIBA FIBA World Championships FIBA Worlds Kevin Durant NBA Oklahoma City Thunder Slovenia Slovenia Basketball Team Brazil Team Slovenia Team USA USA USA Basketball