BY CHAD SMITH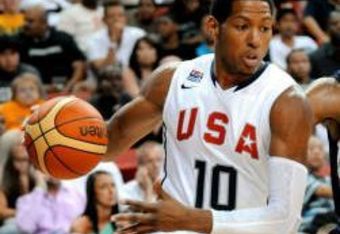 Danny Granger played 15 minutes in Saturday's opening round game against Croatia. He finished with nine points, as Team USA routed the opposition—106 to 78.
Former IU Hoosier Eric Gordon lead the team with 16 points, and team leader Kevin Durant finished with 14 points and eight rebounds. Gordon did not start but provided instant offense from the bench.
This year's team, which has been called the U.S. "B" team, can earn an automatic berth into the 2012 Olympics by winning the worlds; a feat that's been rare for the United States to achieve.
The USA squad shot 55 percent from the field and were only out rebounded 41-39, despite using a small lineup. The only true Center on the team, Tyson Chandler, was held to just four points in 11 minutes of action.
Granger did not start for Team USA, but everyone on the bench was able to contribute a significant amount because of the big lead that was established. In the second quarter, the Americans broke it open, as they outscored Croatia 26 to 6.
Team USA's blinding speed overwhelmed the lumbering Croatian guards, forcing them to reach in often to foul just to stop a potential fast break. If the U.S. continues to defend, they will be extremely difficult to defend in transition, where they are big, fast, and unselfish. They finished the game with 20 assists on 41 field goals.
The U.S. faces Slovenia on Sunday followed by a game against Brazil on Monday. Tomorrow's game will be televised on ESPN 2 at 9:30am.
Tags: Croatia Croatia Basketball Danny Granger FIBA FIBA World Championships Indiana Pacers NBA Team Croatia Team USA USA USA Basketball