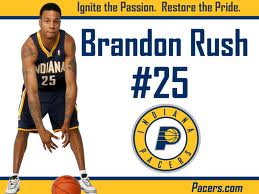 High hopes are here for Brandon Rush this year. Newly-acquired point guard Darren Collison says said some very positive things that makes me intrigued of B-Rush for this season. Rush has improved on consistency and can really make a difference this year. But he's going to miss a few games, however.
According to the Associated Press, the shooting guard from Kansas was suspended five games for violating the anti-drug policy. Things couldn't get worse right now for the Pacers. After a blockbuster deal, it gets interrupted by the arrest of Lance Stephenson and now Rush's latest suspension.
It seems like the trouble is starting all over again. This can't happen. It just can't. But, however, it's just five games and Larry Bird says he will support Rush. Rush hopes to average much more than 9.4 points per game and be a valuable contributor to the team.
"We have been made aware that Brandon Rush has been suspended for violating the NBA's anti-drug policy," Bird said. "We will do what we can to provide Brandon help going forward."
I was going to exactly say what the Associated Press, but let them take the show:
Rush's suspension was the latest blow to Indiana's attempts to clean up its image.

The Pacers released the core of their team the past several years while trying to repair a reputation damaged by the brawl between Pacers players and Detroit Pistons fans in 2004 and several incidents after that in which Pacers players had brushes with the law.

Most recently, second-round draft pick Lance Stephenson was arrested earlier this month in New York on assault, menacing and harassment charges. Prosecutors said he pushed his girlfriend down a flight of stairs before grabbing her and hitting her head on the bottom step. The Pacers have not announced how they will deal with that incident.
This better be the last negativity. Going into the season with high hopes, it can't be struck with things like these.
Tags: Brandon Rush Indiana Pacers NBA