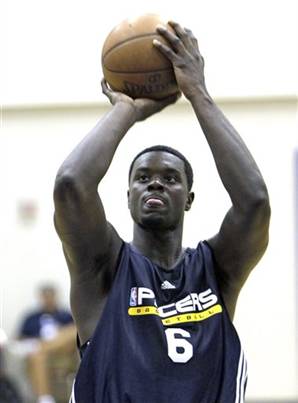 via nbcsportsmedia1.msnbc.com
We all know the story about what happened with point guard Lance Stephenson. The second-round pick of the 2010 NBA Draft for the Indiana Pacers was arrested for beating his girlfriend at his apartment.
According to what the prosecutors have said, Stephenson was waiting for his girlfriend, Jasmine, to come inside his apartment room. Jasmine came in along with two of her friends. Stephenson said, "Are you kidding me?" and pushed her down the stairs. Then, once she fell on the last step, Stephenson punched her.
It was a story many Pacers' fans should be disappointed about since Lance should be one of the hopeful stars of the future for Indiana. Along with that, Indy has already gone through much troubles with their players in the past like Stephen Jackson, Shawne Williams, Jamaal Tinsley, and a few more.
Stephenson told the press today that he is aware of the disappointment in team president Larry Bird and the Pacers' staff and facility. Stephenson is aware of the comments Bird made in the team's press release statement. Stephenson wants to stay focused now and hope things can work out now. Stephenson talked to the press at the New York Knicks' training facility where the rookies photographed for the NBA rookie pack cards.
"I'm just going to try to stay focused," Stephenson said. "I'm going to talk to him, see how he feels about it and I'm going to move forward from it."
The 19-year-old hopes to help out Indy after being drafted out of Cincinnati. According to many NBA Draft experts, they say that he is the steal of the draft. Indiana is still regarding the facts and information on the situation.
"Regardless of the outcome of the investigation, Lance should not have put himself in the position he was in early Sunday morning. We have consistently emphasized to our players the importance of not putting themselves in situations where bad things can happen. Once all the facts are known we will deal appropriately with Lance so that he, the team and the entire Pacers community understands that this message cannot be ignored," Bird said in his statement.
The league is also monitoring this situation.