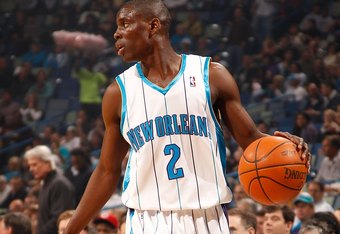 By Chad Smith
So you have likely heard the news by now. Darren Collison is headed to Indiana.
The Pacers were able to swing a deal, part of a four-team deal that involved several talented players. The Pacers basically took Darren Collison and James Posey from New Orleans. Trevor Ariza was sent to the Hornets, while Murphy was shipped off to New Jersey. Courtney Lee is also now a Rocket.
Overall, Collison averaged 12.4 points and 5.7 assists last year, and was even better when starting for injured point guard Chris Paul. Over those 37 games that he started, he averaged 18.8 points and 9.1 assists per game.
Pacers president Larry Bird said earlier in a statement: "We're excited to add Darren to the strong core of young players already on our roster. He's a dynamic young point guard and we believe that he will be a key piece of our goal of building a team that the fans in Indiana deserve."
Larry is right about the strong young core of players that are on the current Pacers roster. Danny Granger has been the strong piece of the team for a while now, and Roy Hibbert has emerged as a really good big man, and could be a top-10 center in the league if he could just stop fouling. The Pacers also have some nice rookies coming in; Paul George and Lance Stephenson are already signed, and the team hopes to sign Magnum Rolle to a contract soon.
The addition of Collison to this team really does take them from a near lottery-pick team to a team with a great chance to make the playoffs. Obviously they won't be able to do much in the East with the likes of Miami, Orlando, Boston, and even Atlanta. Just getting back into the playoffs, though, would be a great way to revive the fan base here in Indiana.
The Pacers not only managed to land one of the best young point guards in the league, but they also sliced off $4 million of the team's payroll. Talk about a steal.
With three proven players in the starting lineup, along with some nice role players, the Pacers finally look like a team again. something Indiana fans are accustomed to having here. We are the basketball state, and it's about time we get back to where we should be.
The addition of Collison will go a very long way in making that happen. With the announcement of this trade, Darren Collison has transformed our point guard position from a question mark into an exclamation point.
Tags: Indiana Pacers NBA