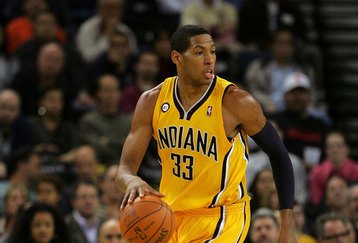 It always makes me laugh hysterically when people say all these dumb rumors of Danny Granger going to a team. There's a bunch of articles I see that say that all you need to do is give a point guard and a draft pick to them and Granger is on your team. Please, my only suggestions to you for saying is, One: lay off on the pipe, or Two: Stop acting stupid. Or is it both?
But seriously, it just plains pisses me off when they say that. Larry Bird has already made it official so many times that the team will open up for any trade rumors, except any involving Roy Hibbert or Granger.
And now with the drafting of Paul George, they are saying Granger is going to leave even more now. What the hell? First, people started saying stupid things like the Indiana Pacers leaving the state to go to Vancouver or something, and now they are all making up a bunch of lies of Granger leaving.
The Pacers going to Vancouver, or any other place, will never happen. And it has already been clear because Indianapolis and the Pacers already under agreement. They could stay in Indy up to 2018. And anyways, the Pacers leaving Indy is like taking away football from Alabama, soccer from Europe, or all the sports from New Orleans. Just stop it!
I have read a bunch of articles saying Granger will go to a team like the New Jersey Nets. They said a deal went down that the third round draft pick and Devin Harris would go to Indy for the tenth pick and Granger before the Draft on June 24th. Please. That rumor only got famous on a local Indiana radio station that nobody really cares about and hoopshype.com. HAHA! Are you serious?
Larry Bird knows that Granger is all the team has. And needing a point guard? Are you blind? The team already has a sure-to-be-Gilbert-Arenas-non-gunning-but-talent-wise-clone in Lance Stephenson and a great backup in T.J. Ford. Paul George will most likely take over small forward with Dahntay Jones at shooting guard. Believe it or not, Granger will play power forward with Troy Murphy backing him up. Center will be Roy Hibbert, obviously.
You can keep dreaming all you want, but Granger will not leave.
Tags: Danny Granger Indiana Pacers NBA