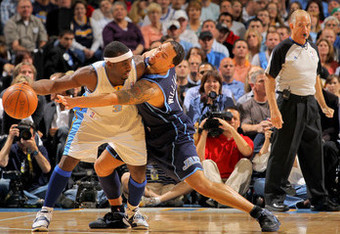 Written by Evan Massey
I've done one article on the Pacers acquiring Darren Collison, but yet another player that I've been hearing as a possible trade option for Indiana is Ty Lawson.
There are many different things that come to mind when you think about the Pacers acquiring Lawson. First is the fact that they could have drafted him last year instead of Tyler Hansbrough, and now they have a second chance. The other main thing to think about, and a main reason why this could really work for the Pacers, is the fact that Psycho T (Hansbrough) and Lawson played college ball together and that could help both of those players excel together being on the same team again.
Last season with the Denver Nuggets as their backup point guard, Lawson averaged 8.3 PPG and 3.1 APG in 20.2 MPG. In Indiana, obviously, he would be play around 37 MPG or so. As the starting point guard, and with the way he produced off the bench last year, I think he could step in right away and get the job done for the Pacers.
Lawson is also Pacers' GM Larry Bird's kind of player. He stayed in school for an extra year even when he could have come out early. Lawson decided he wanted the experience and to be a leader for UNC's run to the Championship. Bird is also known for selecting players who have won NCAA Championships. Due the effort to bring players with winning attitudes to Indy, Lawson would fill his role very well.
Overall, Lawson probably isn't as good of a pickup as Collison would be, but he's definitely a lot better than anything the Pacers have had in the recent past. If they could get away with giving up just the No. 10 overall pick for Lawson the Pacers would do it in a heartbeat…now they just need to convince Denver to pull the trigger on the deal.
Thoughts?