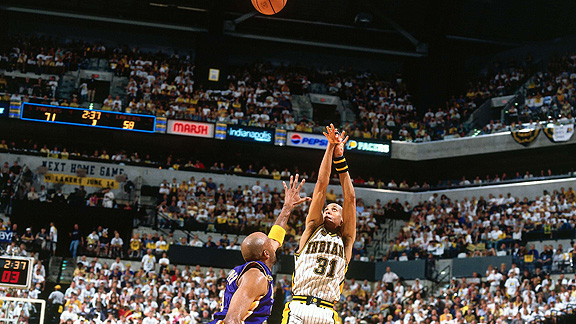 That is according to John Hollinger in his latest franchise rankings. In his rankings, he ranks the beloved Indiana Pacers the eleventh best team in the league. Now how great is that? Thank you, Mr. Hollinger! Here's a little snippet of what he wrote:
Indiana is basketball country, of course, but during the Hoosier State's history, NBA fans have been rewarded with a serious shortage of topflight stars. In more than three decades since joining the NBA in the ABA-NBA merger, the Pacers have yet to produce a first-team All-NBA performer; the only second-teamer was Jermaine O'Neal in 2004.

Indy's glaring lack of star power through the years is underscored by the fact that its one NBA Finals team had a coach (Larry Bird) who was far more renowned in Indiana than any of the players. Its most famous player, Reggie Miller, made the All-Star team only five times, and from 1977 to 1990 the Pacers didn't have a single representative. And not one Pacer has averaged 20 points a game for his Indiana career, including the ABA years.
You can read more of Hollinger's Pacers' post here.