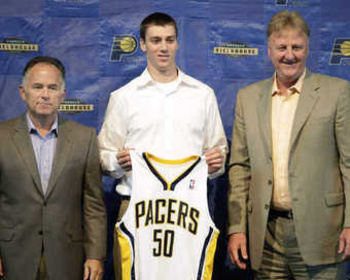 The Indiana Pacers are coming off a year where they drafted Tyler Hansbrough and A.J. Price.
The second-round pick in Price outperformed Hansbrough.
Could the second-round pick for this year's NBA Draft outperform the first-rounder for the Indiana Pacers like in 2009?
I guess we'll find out.
Here is what I think the Indiana Pacers should do for this year's draft.
So without a further ado, here is my Indiana Pacers mock draft.
Enjoy.10th Overall – Xavier Henry, SG, Kansas
Dahntay Jones or Brandon Rush are definitely not the future of the Indiana Pacers are the shooting guard position.
The Pacers need somebody there and I believe Xavier Henry will be the guy. Henry is an amazing shooter and could help Indy from outside.
The Pacers also need a huge amount of help with their guards. This is where the Pacers should spend their tenth overall pick on, the shooting guard from Kansas.
I can guarantee you he will be better than the other Kansas shooting guard, Brandon Rush.
40th Overall – Tiny Gallon, PF, Oklahoma
Don't let his first name fool you. Tiny Gallon is not tiny at all. At 6'10" and 302 pounds, Gallon is muscle-machine and a monster if he were to be drafted by the Pacers.
Gallon, coming out of the Oklahoma Sooners' basketball program as a Freshman, is coming off a year with 10.3 points per game and 7.9 rebounds per game. So he nearly averages a 10-10.
Gallon is a strong guy and can be the future of the power forward position for the Pacers. I see him making big impact if he were drafted.
Gallon is also being named the New Diesel. I can see why:

57th Overall – Robert Glenn, SF, IUPUI
Sadly, no one has heard of the 6-7, 200-pound small forward out of IUPUI. Robert Glenn, who led the Jaguars to a 22-9 record, was a huge leader for his team.
According to many NBA Mock Drafts, Glenn looks to be undrafted. Just a couple of days, the Pacers offered tryouts to numerous players like Patrick Patterson, Ekpe Udoh, Ed Davis, Hassan Whiteside, and Glenn.
Glenn is a hometown hero. He helped his local-Indiana high school team and now his college team.
The San Antonio Spurs pulled off this gig last year, drafting George Hill, who looks to be the starting point guard for the team. Hill was a leading point guard for IUPUI in the 2008-09 season and was drafted by the Spurs.
The Pacers could go for a hometown person in Glenn. Glenn is coming off a year with about 20 points per game and 1.7 APG. He is also a high-total rebounder, averaging nearly seven per game, which is good for a small forward like him.
If Glenn were to be drafted, he would be a great back-up to star Danny Granger. Glenn will obviously be available at 57 and he will be a keeper in my opinion.