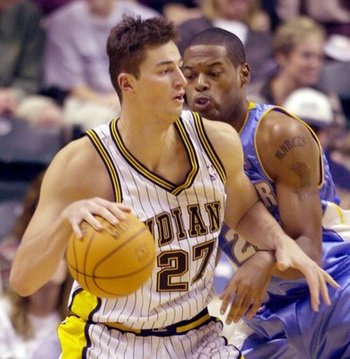 This marks another installment in "If They Drafted Somebody Else" series. A couple of days ago, I did Shawne Williams. Today is somebody else. Let's begin.
In the 2000 NBA Draft, the Indiana Pacers selected Primoz Brezec as the 27th overall pick of the draft. Brezec was a star center from Slovenia and looked to be an important player for the Indiana Pacers. At the time, European players were getting popular to draft and so Indy went with the gig, drafting Brezec.
Brezec never lived up to expectations and never had a chance to prove what he could do for the blue and gold. Brezec played no more than 22 games in each of his three seasons with the team and averaged no more than about seven minutes per game.
In his first year with the team, Brezec averaged two points per game and 1.3 rebounds per game. In 2001, Brezec averaged 1.9 PPG and one RPG. It just kept getting worse, and as 2002 rolled by, Brezec averaged a career-low with the team with 1.6 PPG and 0.8 RPG.
Brezec would later be dismissed by the team and be drafted by the Charlotte Bobcats in the expansion draft. From there, he started to shine with averaging over twelve points per game and over five rebounds per game in his first two years with the team. Injuries then sidelined him and it made Brezec struggle. Brezec would later leave the NBA during the 2008-09 NBA season but would make a comeback, as he returned to the Philadelphia 76ers in 2009. He then went to the Milwaukee Bucks and played in first playoff series against the Atlanta Hawks, as it got disrupted with a 4-3 series loss.
Now what could have the Indiana Pacers done if they haven't drafted Primoz Brezec? The best pick after Brezec was when the Milwaukee Bucks selected junior shooting guard out of Ohio State, Michael Redd, as the 43rd overall pick. Now just imagine what the Pacers could have done with him. No doubt he would still be with the team right now. But remember, Reggie Miller was already the starting shooting guard for the team so maybe that is what forced Indy to not bring in Redd. And besides, who would've known that a player picked 16 spots after your pick what be that great. But if Redd did come he could've been mentored greatly and probably would've been a much better shooter than he is right now. In fact, the Pacers do need a shooting guard right now. Would it had already been filled with this streaky shooter?
I guess we'll never know. But if the Pacers ever were go back in time and re-do this draft, they probably would have drafted somebody else.
Other Notable Players Drafted After Brezec
Eddie House
Marko Jaric
Tags: Indiana Pacers Michael Redd Milwaukee Bucks NBA NBA Draft Primoz Brezec