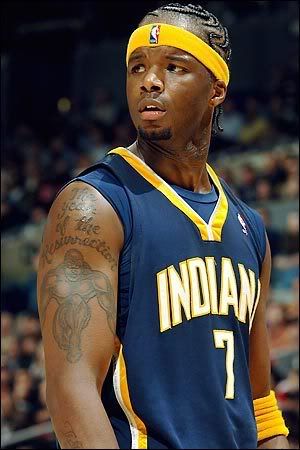 It was during the 2007-08 NBA season. Jermaine O'Neal was keep going through injuries and the Indiana Pacers were thinking of trading their All-Star power forward. Then the trade rumors sparked up of the Los Angeles Lakers bidding for the power forward. Jermaine O'Neal actually kind of liked the trade but was also a bit disappointed. The only reason why he wanted to go to Los Angeles was because so he can contend."I love Indiana and the fans and we have a lot of nice young talent," he said, "but obviously [the Pacers are] in a situation now where they're rebuilding. I told them I can't be in a rebuilding mode right now. I'm at a point in my career where I can't wait another five years to contend. I'm not in a position physically to take in five years of losses and downtime."
He wanted to contend for a championship. Be with Kobe.
"Kobe's in a position right now where he knows he needs some help. He's the world's best player, and he's got a good group of guys around him, but he needs somebody to come in there and give him some support. He knows I want to get back onto the court and prove the naysayers wrong.
"If I'm [in LA], I'm going to help this team win a championship. We can get the Lakers to elite level," O'Neal said, adding that his recent surgery to repair a torn meniscus will have him completely healthy for the first time in two years. "People need to realize that my last two years weren't down years. I didn't go into the last two seasons healthy at all. I'm healthy now and, at 28, I'm in my prime. The game is slowing down for me. I understand it a lot more. I'm ready to show people what I can do."
So, why didn't the trade happen? O'Neal knew he was going to leave and instead, he went to the Toronto Raptors for T.J. Ford. O'Neal was aging and the Pacers had to rebuild. They knew they had to get rid of their power forward, who has contributed so much to the team for all those years. Releasing O'Neal would bring up cap space, but it wouldn't help. That's when the Lakers came up with a great offer that easily suit the Pacers:
What I didn't understand is why the trade was never made. It's just very questionable why the Pacers couldn't do it. But they didn't and it never happened. Instead, they got T.J. Ford, who is now most likely to be traded by the Pacers, too, after two seasons with the team. O'Neal is now with the Miami Heat, enjoying it with Dwayne Wade. But wouldn't O'Neal have liked it better if he was with Los Angeles. This would also suit well for Indy, too. O'Neal cried during the press conference when the trade was announced that he was heading to Toronto to play for the Raptors.
"If they want to move in a different direction, I wouldn't be disgruntled about it," O'Neal said about the Lakers' trade rumors. "If I am traded, it would be seven great years I had with this team. And if I'm going to be here, I'd welcome it with open arms."
So, what if it had happened? What if they did? What if the Pacers accepted Jordan Farmar, Sasha Vujacic, and Lamar Odom and give up Jermaine O'Neal? Let's discuss this.
If the Pacers kept Jordan Farmar, they weren't going to give him up. He would still probably be on the team right now. Farmar is a great backup point guard and may very well could have been a starter with the team. I have a feeling he would fit better in Indiana then a triangle offense in Los Angeles. Along with that, the Pacers would have Sasha Vujacic. Yes, he pretty much wasn't known at the time. But when the 2008-09 season began, Vujacic was known as the Lakers' primary three-point shooter whenever he was in the line-up. And the Pacers could have used a three-point shooter with Vujacic. And I bet he could be an excellent backup shooting guard for the team. But the best they would get off the deal is a young forward in Lamar Odom. Okay, not so young, but he still has a lot left in the tank to compete. Odom would have done excellent with the Pacers. He would be a hybrid because Odom is a guy that can play both power forward and small forward. And with a rising, young gun in Danny Granger that year, who was averaging nearly 19 points per game at the time, the Pacers would probably have finished something better than posting a 36-46 record in the 2008-09 season. Odom would have been the starting power forward, easily. But I bet the Pacers would have still acquired Troy Murphy anyways and Mike Dunleavy.
But if the Pacers did make this trade real, overall, they would have gotten the most success and would be a different team than they are today. This would also change a lot of what the NBA is right now. Maybe the Lakers wouldn't have gotten Pau Gasol, or maybe they could have had. But I guess we will never know. But right now, the Pacers are rebuilding and are looking at a bright future. O'Neal is playing well in Miami and the Lakers are going for their fifth title this decade.
So it isn't all that bad. But if they made that trade, the NBA may not look like what you see today.
Tags: Indiana Pacers Jermaine O'Neal Jordan Farmar Lamar Odom Los Angeles Lakers NBA Sasha Vujacic