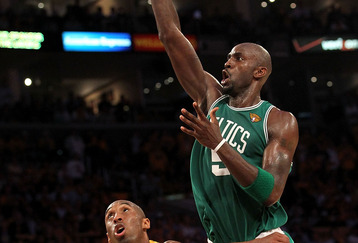 What amused me in the NBA Finals Game One press conference was Pau Gasol and his big mouth. The seven-foot Spaniard displayed comments about power forward Kevin Garnett, a guy who Gasol will be match up against throughout this series. The comments Gasol said were, shall I say, stupid of him. He mentioned comments like that Garnett lost his explosiveness and that he's just a jumpshooter now. Here's what I think.
I would have to say that Gasol does make a bit of a point. I mean, Gasol was just a guy who averaged a few points and ten rebounds per game in the 2008 NBA Finals. Now Kevin Garnett, he was a guy who averaged over 20 points and ten rebounds. But if you look at what happened in Game One on Thursday night, things were different. Gasol had 23 points and 14 boards while Garnett put up 16 points and four rebounds, which is unacceptable.Garnett was asked from the media about the comments. Garnett was mad about what the media was asking to him. And this is why I expect Garnett to be on his A-game tonight. No, A-plus-game. KG mentioned that he didn't care what Gasol said.
I bet he will give it to him tonight for Game Two of the NBA Finals. Garnett is going to show Gasol that he still has his explosiveness in him. And he is going to teach Pau that he should keep his mouth shut next time. That would be something.
Actually, what would be more amusing is if Garnett puts up some nice dunks and Pau or something. But after one of those dunks, he says, "Am I explosive now?" or "How about now?" That would be funny and also create a bigger rivalry for this series.
I think the Celtics will take Game Two tonight. I think the Celtics are pumped off the comments and hope to prove Los Angeles wrong. I think the Celtics know what they did wrong, probably. I mean, they should know better. They played horrible defense and should learn not to foul too much.
But I still like the Lakers so far to win the series. I guess we'll see what happens tonight.
Expect Garnett to fly.
Tags: Boston Celtics Kevin Garnett Los Angeles Lakers NBA NBA Finals NBA Playoffs Pau Gasol