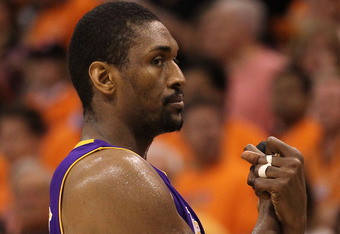 Ron Artest has certainly matured throughout the years in his time with the NBA.
We've seen him from the Chicago Bulls, then with the Indiana Pacers, then Kings, and Rockets.
Now he is with the Los Angeles Lakers, most notably coming off a buzzer-beater to beat the Phoenix Suns and help close out the series in Game Six.
Now Artest is in the NBA Finals against the Boston Celtics and look to receive his first ever NBA ring.
But he says he wouldn't be here after learning his lessons with the Indiana Pacers' organizations.
He just told CBS.com a few days ago that he regrets bailing out on the team:
"The biggest regret of my life, really, is bailing out on that Pacer team," Artest said. "I mean, outside not going to church every single Sunday, bailing out on that Pacer team is my biggest regret. Every time I see Jermaine [O'Neal], every time I see Steve [Jackson] and Jamaal [Tinsley] … I get a little bit of a feeling when I see [Larry] Bird, because he was such a great player and I respect him so much. So I get that feeling when I see Bird. I feel like a coward. I feel like I don't even belong in their presence, really."

"When I saw Jermaine [this season], I felt like I didn't even belong in the same room as him," Artest said. "I felt like a coward. I don't like feeling like a coward, and I feel like a coward. That's the biggest regret of my life. Steve Jackson, Jermaine, Jamaal, even Jeff [Foster] — a blue-collar guy like him, put his life on the line for us on the court, and I totally disrespected him. And of course Reggie. I was in a position to win a championship, Reggie was in position, and I bailed out on Reggie. I feel like a coward. A big-time coward. It's hard for me to even speak to them, hard for me to see them."

"I learned a lot from those days, and regret a lot," Artest said Sunday, the Lakers' last day off before the Finals. "It molded me to be a better teammate."
Artest is going to play a big role in the Finals and the Lakers need him. He looks to play some tough defense on Paul Pierce.
As a Pacers fan, I am glad Artest has said. I accept his apology because he did some great stuff from the team.
At least he has learned his lesson from the past.
And that is what counts.
Now go and get your ring, Ron!
Tags: Indiana Pacers Los Angeles Lakers NBA NBA Finals NBA Playoffs Ron Artest