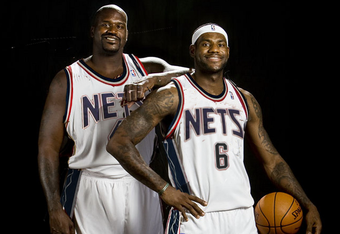 It's getting closer until we witness LeBron James' decision of if he is staying or is he gone.
But just to stir things up, here's a possible situation that can happen.
I have written something a while back about LeBron James going to the New Jersey Nets. Yes, I know that.
Jay-Z could bring him in, since they are both long-time friends. Mikhail Prokhorov looks to be the next best owner in the NBA and could also lure in James. Also, the Nets do have a good, young supporting cast.And just to add to it, the team is in fact moving to Brooklyn in a few years.
But if James does in fact pick to go to the Nets, it could also mean something else.
Shaquille O'Neal may join him.
I know, right? It is possible.
The rumors have started a while back for O'Neal that he may go to the Nets. And it can fit, too. Maybe he and Brook Lopez could be a combo up at the big man spot.
Maybe that won't force the Nets to get Derrick Favors or DeMarcus Cousins. Maybe it can leave them for getting Wesley Johnson.
But even with Shaq and Brook Lopez occupying those spots, most probably New Jersey would most likely want Favors or Cousins at the number three pick when they are called up to pick at the NBA Draft.
But it would be nice seeing that. LeBron and Shaq as a combo again.
Both need to get a ring together. LeBron, Dwyane Wade, and Kobe Bryant are the three main faces of the National Basketball Association, right?
And Shaq has already won three championships with Kobe Bryant early in the new millenium, and brought a title for Dwyane Wade and the Miami Heat just a few years after that in 2005.
So everybody could say it is now James' turn to get one, right?
I guess so.
Maybe they can.
I guess we'll see once free agency comes up.
Tags: LeBron James NBA NBA Free Agency New Jersey Nets Shaquille O'Neal