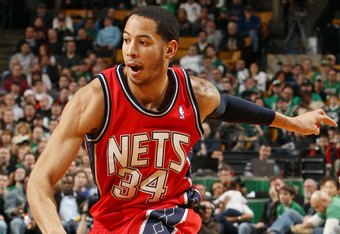 According to sources, the Indiana Pacers may be in play for New Jersey Nets' point guard Devin Harris.
With the NBA Draft getting closer and closer, the New Jersey Nets are predicted as the number one pick in the draft.
And everybody—and I mean EVERYBODY!—is saying that the Nets will indeed draft Kentucky Wildcats point guard sensation, John Wall.
Wall, a freshman, will most probably be the starter at point guard.
So that's where the question pops up: Where does that leave Devin Harris? Nets' president, Rod Thorn, has told numerous media sources that many teams are interested in the young, stellar player.
According to ESPN's Chad Ford now, the Indiana Pacers are one of the teams in play for the point guard and could be the best team to get him.
"Bit too early to talk deals. N.J. won't move him if they don't land Wall. If they do land Wall, watch the Pacers. They like him and need a point guard," writes Ford.
So that's that. But let's get further more into the discussion of this.
How do the Pacers go from here with their guards, then? They just re-signed T.J. Ford and what is to do with the other point guards in A.J. Price and Earl Watson? Can they use four point guards?
Or could they move on to shooting guard. Harris won't be a shooting guard, I can guarantee that. But don't be surprised seeing Price moving over there. I could see that.
But it may affect Brandon Rush, who is already backing up Dahtnay Jones at the shooting guard position. So that means Price and Rush are in for a battle. Maybe all three of them are, in fact.
But right now, that is what's going around the rumor mill here.
So Pacers fans?
Devin Harris good enough for you?
Tags: Devin Harris Indiana Pacers NBA NBA Draft New Jersey Nets