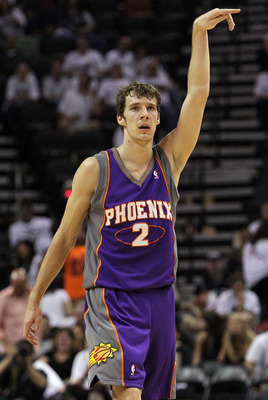 Where'd this guy come from? With the Suns down, they had to make a difference in the fourth quarter in a Game Three matchup versus the San Antonio Spurs during the Western Conference Semifinals of the 2010 NBA Playoffs.
What was there to do?
That's where Goran Dragic came in, scoring 23 of his 26 points in the fourth quarter and rallying a comeback for the Suns, winning by a large margin of 110-96 to take a 3-0 series lead.
The Suns have been making a good run. This performance of Dragic brings back memories on the day of May 7th. I hope you guys remember that day.

Michael Jordan vs. the Cavaliers – The Shot
On May 7th, 1989, Michael Jordan showed his greatness/airness on a fabulous night versus the Cleveland Cavaliers. It was known as The Shot. Simply just that because it was so good.
Entering the game, with the series tied at two, this game would show who would advance to the next round of the playoffs. The Bulls have been winless with the Cavaliers for the regular season and everybody thought Chicago didn't have a chance at this.
The Bulls were ahead, 99-98, their first lead of the game. But when the Cavs inbounded the ball, Craig Ehno drove down the lane for a crucial layup, give the Cavs the lead at 100-99.
That's when the legend of MJ occured:
"The inbounds pass comes in to Jordan. Here's Michael at the foul line, the shot on Ehlo…GOOD! The Bulls win! They win! They beat the Cleveland Cavaliers! Michael Jordan hits at the foul line! 101-100! 20,273 in stunned silence here in the Coliseum. Michael Jordan with 44 points in a game hit the shot over Craig Ehlo. What tremendous heroics we have had in Game 5. From both teams, what a spectacular series this has been. In my days in the NBA, 16 years, greatest series I've ever seen!"
Reggie Miller vs. the Knicks – Eight Points, Nine Seconds
On May 7th, 1995, it was time for Reggie Miller to show his greatness. With the Pacers down, Reggie Miller made a three-pointer to get the game close. Then, Miller came out of nowhere, stole an inbounds and ran back to the three-point line.
He showed guts, took the three, and made it. Later on, Miller brought the Pacers back and won the game. It was known as the game where Miller scored eight points in nine seconds.
Amazing.
"We were shell-shocked," says Anthony Mason, the former Knick, years later. "We went numb after his second three. We became totally disoriented. It was like a terrible nightmare that you couldn't wake up from. I still think about it today. I can laugh about it now. I wasn't laughing then, that's for sure."
Tags: Goran Dragic Michael Jordan NBA NBA Playoffs Reggie Miller