Big props to the Amare photoshops from KGMN and Kobe24isdabest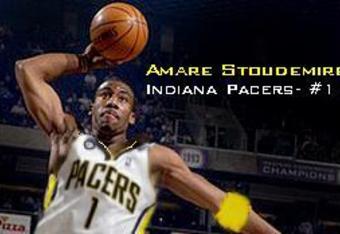 When the off-season comes around, people will be focusing on two big things. Obviously, one is the NBA Draft, but more people are hyped up for the free agency, looking to be on the biggest for awhile.
It will feature players like LeBron James, Dwyane Wade, Chris Bosh, Yao Ming, maybe Amare Stoudemire, Joe Johnson, and so much more! Who will get who? Many expect the New York Knicks to get a bunch of these players.
As a Pacers fan, you shouldn't be hyped up for this. What Indy should worry about is the NBA Draft. With a very strong chance of landing Ekpe Udoh, the Pacers can develop from there. Salary cap isn't one of their favorites on the list really for this year.
But when 2011 Free Agency hits, that's where you need to get hyper, Pacers fans! With more $50M of cap space coming, things just couldn't get better. Along with that, that's where it's the best time for Amare Stoudemire to come in.
I don't believe one thing at all that Stoudemire will leave the Suns in 2010. But in 2011, there is a possibility, unless if the Suns have a great run like they're having right now. But back to the point. Stoudemire could be the player Indy wanted all along.
There's really nothing much to do with Troy Murphy now, anymore, and they might as well trade or release him for 2011. I believe they'll keep him for one more year, then take him out, and look for Amare.
Stoudemire would make the perfect combo with swingman Danny Granger. Stoudemire can also like it here in Indy, as he can develop better statistical numbers. Good home in my opinion and it can increase the fanbase and popularity for Conseco Fieldhouse and Indianapolis, basketball-wise, like they did with the Ron Artest/Reggie Miller/Jermaine O'Neal times.
I guess we'll see. But 2011 NBA Free Agency is definitely where it's at for Indy.
Tags: Amare Stoudemire NBA NBA Draft NBA Free Agency NBA Playoffs