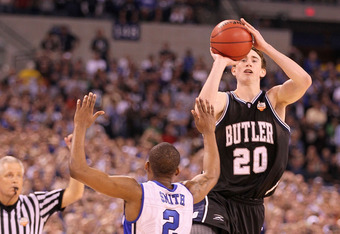 Ever since Butler's PF Gordon Hayward declared for the NBA Draft, a lot of rumors have been heating up that the Indiana Pacers will pick him up.
Oh really?
First of all, Hayward is projected as the 14th overall pick in the draft. Though the Pacers are projected as the tenth overall pick, it doesn't mean they can't get him, it's just that they shouldn't.
People have been talking about this is because he is from Indiana and all of that. I know that, and he has talent, but the Pacers are looking to draft differently now.
I'd like a guy like Patrick Patterson or Eric Bledsoe instead. No offense to Hayward. He will have a great NBA career, but it won't be with Indy. It just can't be.
Larry Bird made a bit of a mistake last year drafting Hansbrough, who was out for over three months with just an ear infection. But it infected him. I read a story about an MLB player having this and he later had to end his career.
Hopefully, this will not happen to Hansbrough. I like him, though, because he pumps up the team and puts up nice numbers sometimes when he plays. I like that.
Another reason why the Pacers shouldn't draft Hayward is that the Pacers already have enough power forwards. Hayward won't have anywhere else but to be a backup. He can go as low as third string.
Even if Troy Murphy leaves, Hansbrough or somebody else will be giving the starting job. It could take years for Hayward to be a starter and he might as well be traded and it'll be wasted as a Top Ten draft pick.
He'll be better off with some other team.
So please, Indy, don't draft Gordon Hayward.
It could mess up his career and a bit of the franchise.
Make the smart move.
Tags: Butler Bulldogs College Basketball Gordon Hayward NBA NBA Draft NCAA NCAA Basketball