Remember Britton Johnsen? Yeah, most other people don't either. I even just called his mom for comment and she was like "Who?"
But he really did play in the NBA and suited up Pacers for a few games after the Brawl when the suspension-decimated team was just looking for any mannequin with a pulse to drape a jersey around and send out on the court. I can't give a very insightful scouting report of the guy, honestly, but he always struck me as someone best described as a really homeless man's Keith Van Horn with the coordination of Shawn Bradley.
Maybe a look at his most memorable performances with the Pacers will jog your memory?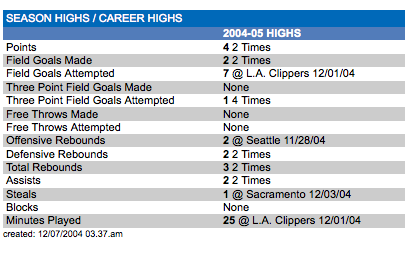 No? Well, OK then.
The only reason I bring it up is because I saw this player profile update on the wonderful Sham Sports the other day, and it reminded me of his existence. It also featured video of Britton dunking on LeBron's face during LeBron's first-ever professional game. (Presuming, ya know, you don't count those games at St. Mary's … or Nike camp … or ABCD … or AAU.)
All things considered, dunking on the best player since MJ isn't exactly a bad apex. I mean, the highlight of my basketball career was beating Omar Cook in a game of ping pong, so I shouldn't really be throwing stones from glass houses.
Tags: Britton Johnsen Keith Van Horn LeBron James Malice At The Palace Omar Cook Shawn Bradley St. John's University