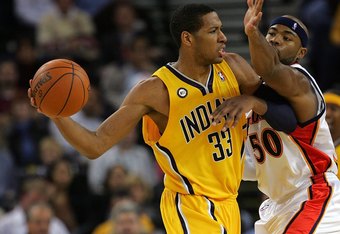 Written by Chad Smith on March 23, 2010
The question for the past six or seven years has been: How do you fix the Pacers' problems? The answer may be more clear today than it ever has before.
With the Pacers completing the season sweep of the Detroit Pistons tonight in Michigan, they have now won four out of their last five games—the only loss being a five-point nailbiter to the LeBron Cavaliers.
Before these last five games, the Pacers had positioned themselves for a great opportunity this summer as a major player in the John Wall/Evan Turner sweepstakes. Now that the Pacers' season has already been thrown out the window, they decide to start winning.
As they continue to add victories to the win column late in the season, they prove they are still capable of doing what they do best—digging the hole deeper for this franchise.
If the Pacers don't land a top pick in this year's upcoming NBA Draft, they will once again wind up with a worthless draft pick and/or trade to ruin their chances for improvement next season.
Basically, it's Wall, Turner, or bust. After those guys, there are a few good big guys waiting, but the Pacers don't need those guys. The biggest problem the Pacers face right now with this team is a starting point guard. Bringing in a guy like Wall or Turner will give this team, and this city a great face lift.
Basically, when the Pacers need to win, they lose. When they need to lose, they win. What is going on here in Indianapolis?
Well…at least we have the Final Four this year.
With any luck, the Pacers will begin another losing streak, and if Wall and Turner make it here for the Final Four, maybe they can just stay here and go house hunting.