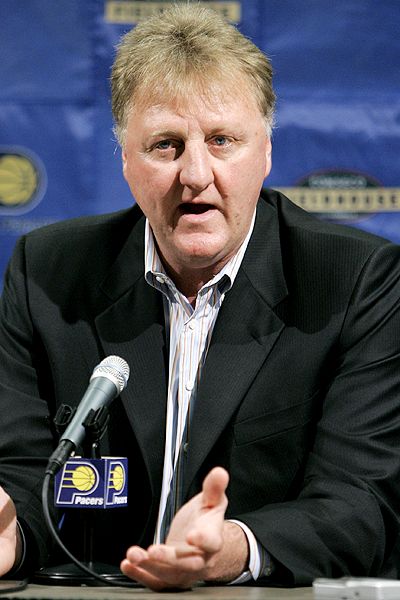 Indiana Pacers president Larry Bird is entering the final year of his contract with the team, coming into this year's 2009-10 season. Bird has made it clear to the team's organization that he wants to stay here.
"I said when I took over that we were going to change the culture, and I think we've done that," Bird told The Indianapolis Star. "Now it's putting the pieces of the puzzle together to get the type of team I want here and it ain't going to happen overnight. … It's a process, and we said it's going to be three years and we feel we're still on course."
The Pacers were going through money problems, and it looks like they'll be facing more during the year of 2011 when the contracts of Troy Murphy, Mike Dunleavy, Jeff Foster, and T.J. Ford expire.
"It's tough, there's no question about it," Bird said. "Being in a situation like we were against the NBA luxury tax and stuff we were dealing with, I think it was a difficult time period. Now we're over that. We're looking forward to a bright future."
The Pacers already look like a playoff-caliber team, and with Granger looking to roll this year, I think they're ready for 40-win season now.
Tags: Danny Granger Golden State Warriors Indiana Pacers Jeff Foster Larry Bird Mike Dunleavy Milwaukee Bucks NBA NBA Playoffs T.J. Ford Toronto Raptors Troy Murphy