The AMT Rumor Mill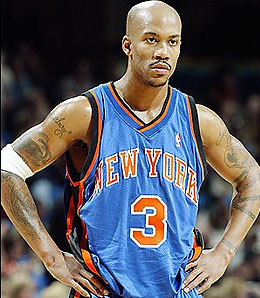 According to Stephon Marbury's Twitter account page, he has pretty much all given us a hint that he is going to retire from the National Basketball Association. Said Marbury on Twitter:
"Basketball is just a game. I will say it again. 14 years 250 million. Hold that. I'm good. Thank you Jesus for the blessing. Thanks NBA."
Well, it seems JR of The Sports Brief was right when he said Marbury was going to retire after making pointless and, well shockingly stupid, videos of himself dancing, crying, Barbie Girl, and so much other stuff that it actually seemed that rumors were coming up of him coming out of the closet. But come on, it's Starbury, he ain't gay! Congrats on a good career Stephon, you'll certainly (well kind of) be missed.
In other news, there might be a possible chance of Wally Szczerbiak joining the New York Knicks, according to The Knicks Fix. Szczerbiak had a good first year when he joined the Cleveland Cavaliers, but last year, it was a big disappointment so the Cavs made him a free agent. But, hey, it's cool for him. He may be joining David Lee and the Knicks. Now to make it better, all NY needs is to resign little man Nate Robinson, and they are good to go…for possibly another bad season (no offense New York Vinnie).
Meanwhile, it seems that Yi Jianlian may be playing more inside the paint for the New Jersey Nets. He spent his last two NBA seasons spending a good amount of time outside of the paint. It seems that Jianlian doesn't actually suck after all. He actually is quite impressive in the post, finding new skills. He discovered his newfound strength and post moves, including a cool lefty hook shot, according to ESPN.com Insider via Nets Daily.
In the links, Hakim Warrick may be joining the Chicago Bulls as well as the news with Allen Iverson with the Memphis Grizzlies.
Tags: Allen Iverson AMT Rumor Mill Boston Celtics Chicago Bulls Cleveland Cavaliers David Lee Detroit Pistons Hakim Warrick Indiana Pacers JR Sport Brief Memphis Grizzlies Milwaukee Bucks Nate Robinson NBA New Jersey Nets New York Knicks New York Vinnie Stephon Marbury Wally Szczerbiak Yi Jianlian