Former Indiana Pacers small forward Stephen Jackson is wanting to be traded by his team that he is now on, for a couple of years, the Golden State Warriors. Just about a year ago, Jackson signed a three-year $28M extension with the Warriors, and now it looks like that deal never existed as he wants out. Why does he want out, though? He has the money, and he is the star of the team.
But it seems Jackson wants to play somewhere where he can actually go to the post-season with and possibly win the NBA Finals. Jackson has been receiving interest from the Cleveland Cavaliers, San Antonio Spurs, Houston Rockets, Dallas Mavericks, and the New York Knicks. Surely the Knicks might will be out of the question in since Jackson wants a team where he can win with.
But according to HoopsWorld, the Dallas Mavericks are trying to arrange a trade to bring Jackson over to play with them. Man, this NBA off-season is crazier than Ted Kennedy once trying out for the Chicago Bears of the National Football League. The Warriors are even agreeing to trade him anyways, so it really won't matter.
Jackson had an amazing season last year; averaging about 21 points, about seven rebounds, and about five assists last year with Golden State, making it a career-high year for him. I wish all the best for Stephen Jackson. Jackson had made good contributions to the Pacers as well. He was very good with the team, but I don't know why Indy let him go.
Oh right: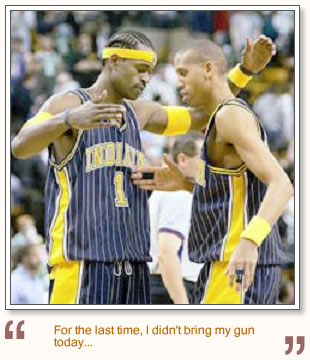 Oh well, it happens to the best of us. Okay, no.
Tags: Chicago Bears Cleveland Cavaliers Dallas Mavericks Golden State Warriors Houston Rockets Indiana Pacers NBA NBA Finals NBA Playoffs New York Knicks NFL Reggie Miller San Antonio Spurs Stephen Jackson Ted Kennedy